Do you still have your Typewriter?

South Korea
February 29, 2008 6:27pm CST
15 years ago one of my greatest dreams as a student is to have a typewriter. It helps me a lot to do my homework and in school our teachers wouldnt accept our projects if it is not a typewritten one. At that time i dont have a typing machine so i use to pay for typing shop to do my paper works. And then computer was became popular, little by little lots of household own one. And a typewriter seems to be left by and forgotten...for that fifteen years i doesnt have the chance to own a typewriter but i am ownning a PC right now...but i still want to own a typewriter and if i have one i will keep it as a souvenir...I like the sound of it, even if it is so loud. How about you do you still have your typewriter?
4 responses

• United States
1 Mar 08
My mom gave me herold typewritter when I was a kid. I used to love pretending I was a reporter or something and play with it, but I've never usedit for a real purpose.

• Philippines
13 Mar 13
i don't know now if our type writer at home still there because i didn't see it in the house or maybe my father already junked it when we had computer already in the house,type writer before is very helpful to everyone especially student because having this in the house will make your project more presentable.

• Malaysia
21 Jun 12
no..i dont. but i was just going around my town area few days ago looking if some shops still stock the old cassette walkman..like the 80s or early 90s Aiwa,,etc

• United States
19 Jun 12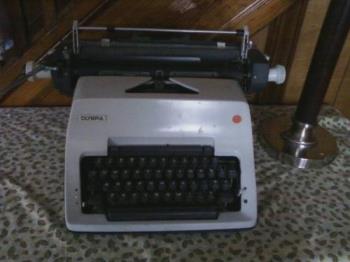 When I was in high school they had key boarding classes. I dont think they have typewriters they use anymore for that I think they are all computers now. I always loved typing on a type writer. I used to write stories on them when I was little. My daughter watched this american girl movie called kit kitteridge and the girl typed on a type writer all the time. I told her about how I used to use my moms all the time when I was young and my daughter wanted one so I called my mother to see if she still had hers which she didnt but she found an old one of my grandfathers out in the garage. The ink was dried up but she had a brand new replacement package roll of ink that we put on. It works ok. My daughter loves it and has a lot of fun with it.