Have you ever made an igloo?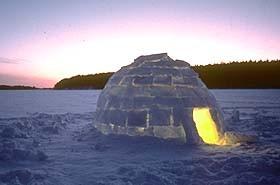 United States
March 1, 2008 6:45pm CST
I was watching a movie the other day that had igloos in them and it made me think of a time when I was younger and me and my sisters attemtped to make one. We got all the sides up but when it came to the roof we couldnt figure it out lol. How far did you get? How did it come out?
1 response

• United States
2 Mar 08
I forgot all about doing that when I was young. My sister and I used to do that as well. I dont think she did it as much as I did though. I would work on it all day and dig and dig and pack snow and make it shape but then when I actually started to get it big enough I think I always was to scared to get in anyway afraid the snow would collapse on me.