Can you go number 2 in a stranger's house?

Australia
March 2, 2008 7:53pm CST
This is a silly post, but so relevant. Can you do it? What about other family members? Personally, I find it difficult. But I'm sure it feel very liberating to not have to worry about thigs lie this and just go freely. Have you ever? Do you care? What are everybody's thoughts on this?
8 responses

• Canada
3 Mar 08
I have performance anxiety, the only place I could do it is at home. It doesn't bother me if other people do it though, it is all a part of life...

• United States
3 Mar 08
I find this very hard to do. I have a habit of not sitting on toilets. That even means my family's and friends. If I have to go I will run home and do my business.


• United States
7 Mar 08
OMG- LMAO! No I cannot do it. I can't go pooh in a public bathroom either unless it's empty and I really have to go. At a stranger's house I usually (if I can't hold it) look for an out of the way potty. Most of my friends have more than 1 bathroom and hopefully some perfume or room spray..I also in that situation try and go really fast and flush fast for some reason. I can't get comfortable doing that in someone's house but sometimes when you gotta go, you gotta go...

• United States
3 Mar 08
I find it really uncomfortable but I learned when I had that stomach bacterial infection to do it anyway. Because I didn't have a choice. I also hated to go to the bathroom at work too. Now if I can wait I will do my best until I get home but I also live 20 minutes from town and his family.

• Philippines
3 Mar 08
you know what , i do not understand what you are trying to say .kindly refrain your question because i am having different thoughts on the subject matter.

• United States
3 Mar 08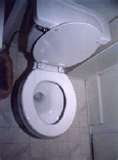 Yes I can and I have because it's not like they're going to know about it, unless you tell them. Besides, it's part of nature and in tune with out bodies, we go because we have to. There's nothing to be ashamed of. Besides, if I don't go when I need to, I'll end up regretting it by wearing it.

• United States
3 Mar 08
I'd have to really trust their bathroom to do something like this, i always have a hard time going number 1 in any bathroom.