You are sitting in your living room watching the NEWS.. when all of a

United States
7 responses

• India
3 Mar 08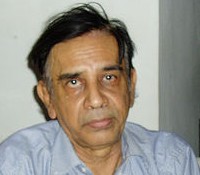 It happened two days back.I was watching the 9 o clock news and it said that my favorite writer Sujatha has passed away.He is a friend of mine too.I was just shocked and felt very very sad because he is definitely irreplaceable.Great soul and a genius of many subjects.May his soul rest in peace.

• United States
4 Mar 08
This is a good tribut to someone who is very dear to you. I know that this is a great loss to you personally. You are to be admired for sharing your loss with us. Yes, may his soul rest in peace.

• Singapore
4 Mar 08
It depends on the news. Some news are about corruptors and crimes... i always get mad and emotion, those people just dont have normal brain to think about how to act as moral persons... they just "weirdo"! That's all i wanna say... I really hate to watch such news, i better change to tv programs, oprah, living asia, or discovery channel!!!

• United States
4 Mar 08
the economy and the loss of many jobs all over the country..the high paying jobs that is paying the bulk of the taxes..and social security..now that does get my attention..that and stuff about scams and (the Hall of Shame) a local expose of scams and bad people. thankx

• United States
4 Mar 08
There were two and both were sports stories. One was the Roger Clemens mess.I wast shocked and then pleased that it was happening to Clemens. And the second was the story of Zednik's accident.He was an Cap so I got to like him so when I saw that he was hurt I was scared and saddened to hear what happened to him. And when I was so happy weeks later to see his press conference.

•
4 Mar 08
Every time I see yet another body returned from Iraq or Afghanistan I get so angry with our stupid, stupid politicians that responded to 7/11 in such a way that we can never "win", but have massaged their own inflated egos in the blood of our nations' brave (and not so brave) guys and gals but not got a spot of real blood on their hand made suits.

• United States
3 Mar 08
Yes, it happened this week to me. There were two high school boys killed in a car wreck here and when I heard it, I cried. it turned out that I knew one of the boys' mom and most of her family. I was really good friends with her cousin in school. How sad - they were 15 and 16 years old!!