"fruits and their uses"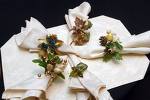 Legaspi, Philippines
March 4, 2008 9:33am CST
Most of us think that fruits is better mainly for desserts, jams, salads, shakes or sherbet, and punches, fruits now a days can add savory tastes and an eyes watering delectable dishes. These are greater source of delicious and good nutritious meals, It just need your little creativity to turn a fruit into a mouth watering unforgetable dishes.their juices, gives meat, poultry and even fish dishes a delightable taste and aroma. So start cooking now using your own choice of fruits, use the fresh and ripe for more satisfying meals.
No responses