Does your pet freak when there's a storm?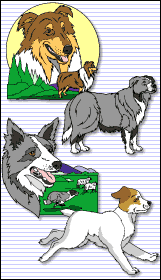 United States
March 4, 2008 11:04am CST
My dog get panicky when she hears thunder. Once we cuoldn't find her and she was in the bathtub hiding lol...poor thing. Do you have a pet that just freaks during a storm and what do you do to make them less scared?
5 responses

• United States
4 Mar 08
I have tropical fish that can quickly alert me to bad weather. The Catfish go crazy by digging holes and trying to hide under anything in their tank. They have two houses that they can go into anytime, but they would rather make a big hole. The other tropical fish all run to the back corner of their tank. They will all get themselves in that corner no matter how many are in the tank. We regularly have earthquakes, so you won't see many fish in any tank during fire season, as two problems at one time causes to much stress. It means a lot of trouble with a few more water changes.

•
4 Mar 08
I have two cats. One of them doesn't seem to be phased by anything. She'll either not pay attention no matter how loud the bangs and crashes are, or she'll go to the window and watch. My other cat however, is a true scaredy cat. She'll hide under the bed and won't come out until the storm is long over. Poor little thing.

• United States
17 Mar 08
My dog freaks out whenever there's thunder or fireworks. He's a big golden retriever sized dog, but he'll try to hide i between your legs, or under desks and chairs. It takes a lot of effort to help him calm down. But my cat seems to be fearless, lol. xD


•
4 Mar 08
My dog is terrible with any loud noise and with storms, worse. She goes completely jelly and starts shivering and being as close to the nearest person she can find. Usually that's me when I am on my laptop, I have it on the floor sometimes and she just comes over and sits on it! I used to have a dog years ago who would hide under our bed, which was completely full of stuff. We could never work out how she got under there but we used to leave her to come out on her own. She wouldn't have come out if forced!