What's your favourite kind of seafood?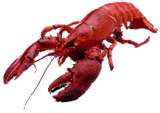 United States
March 4, 2008 11:20am CST
I just love Alaskan King Crab legs, lobster and shrimp! I could sit and eat them all day lol. I also love clams, small baby butter clams. Makes my mouth water just thinking about them mmmmmmm. What about you, do you like seafood? What is your favourite?
6 responses




• United States
24 Mar 08
Steamed Maryland Blue Crabs!! Hardshell, with tons of Old Bay on them. After that - sashimi of various types. Yum!

• United States
7 Mar 08
I love shrimp! My favorite is shrimp scampi. I love to go to Red Lobsters endless shrimp in november. That is when you get all you can eat for under $15.00.

• Malaysia
4 Mar 08
My favorite kind of seafood would be butter prawns. I have to have those adlest once a month !! They are very addictive ! I also love sweet and sour crabs. But im not a huge fan of eating crabs are restaurants as they are very messy so if anyone buys them home , then ill have a jolly good time eating them !