Stuck in the sewer?

United States
March 5, 2008 2:14pm CST
Ok this is a little sillly. Spinelli and Maxie are in the sewer. She has gotten herself "stuck" in the grate and is terrified that the grate will go up and kill her. Then lo and behold, she easily slips through the grate. So how many days did she stick there and why was it so easy for her to get out. Cheezy to say the least.
1 response

• Canada
6 Mar 08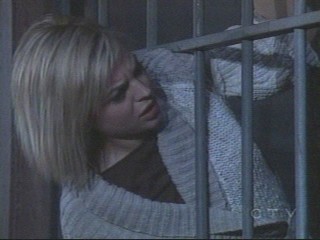 Yeah, I agree, that whole stuck in the sewer thing was a 'little cheezy', but, I enjoyed it. I am loving Maxie and Spinelli and their scenes together. Like the true 'princess' she is, it was kinda funny watching her complain about getting her shoes dirty and dropping her cell phone in the sewage and Spinelli's black and white daydreams continued too! Also him lifting her out and accidentally chlorophoming himself and then her horriifed look as she saw Diego. Yep, it's a soap and yep we do get some cheeziness, but I love that our man Guza is back at the helm writing this 'cheeziness' for us!

• United States
6 Mar 08
Yeah, it is funny. I have not be a real fan of Maxie but the sleuthing with Spinelli could be a really interesting story. Takes me back to the days of Remmington Steele and Moonlighting.