I had a tooth extracted..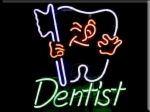 Philippines
March 8, 2008 7:33am CST
After a long time, I had a tooth extraction today. I can't recall the last time I had one. I thought I would just get a filling but the dentist told me that it's better if the tooth gets extracted. I really do not feel well today. I hope I will feel better tomorrow...
3 responses

• China
9 Mar 08
Hehe! I also have a tooth extraction two weeks ago. It really hurted for about one week. I must took the painkillers everyday and I'm not allowed to brush my teeth. But only after one week, the pain stoped. And now I feel very good exept there is a big hole left in my mouth cause I've had a wisdom tooth extracted. Have good rest and don't eat too hot food, you'll be better soon!

• Philippines
9 Mar 08
Thanks! I actually feel better now... Yeah, you are right, it feels a little odd that there is a blank space back there... hehehhe!

• Canada
18 Mar 08
I sympathize with your pain, when i had braces they took out a grand totaly of eight teeth. Four of them were molars, wisdom teeth, but they still hurt. Those really hurt compared to the other teeth they took out. I remeber the first time they didnt give me and ain killers. When they took out my molars however they loaded me up with so many pain killers i honestly didnt need.

• China
13 Mar 08
I am really sorry to hear that!I hope you can recover the health as quickly as possible.Do trust the dentist,they have more profesional experiences than us.Give them a chance to return us healthy!