A child's idol

India
March 10, 2008 4:15am CST
I believe that a child's brain is like a white paper when he starts knowing this world and mother is his/her role model for everything that is good or bad. The attitude and behaviour of the mother is truly reflected on the child.What are your suggestions for a new mother to bring up her child in a much exemplary way?
5 responses

• Philippines
12 Mar 08
Your belief that child's brain is like tabula rasa is one of the theories in developmental psychology. It is true that mothers have significant influence over their children. Perhaps it would be a good start to be honest most of the time especially on important things in life . Also, loving is not only giving but judicious witholding. As an educator, I have seen riches spoil children while adversity breeds character. It is also helpful to read books on Child Care or find a mom who has reaised good children and ask for some tips. But dont forget, were not perfect so relax, your intution will help a lot in raising a good child.

• Philippines
11 Mar 08
Me as a mother, i talked to my kid in a nice way so that she wont get scared every time i scolded her. Then I explain to her why i did that. Children nowadays get rebellious if you don't keep eye on them and maybe because of what they see on tv or maybe in the neighborhood

• United States
10 Mar 08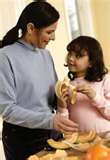 Show right from wrong in a positive way and by example. If you don't do what you teach your child then the child will grow up confused to which is the right and which is the wrong way so showing by example is the best way for a child to learn.

• India
10 Mar 08
A very good topic for discussion indeed. Yes the mother is the role model and idol for every child. Not just mothers but also fathers are the real idols and role models and they have to do justice as to whatever they are doing. If you teach your child to keep the room clean, then it is the duty of the parents to keep their room clean. If you want your child to make his/her bed, you make it before getting out of the room. It is easily understood by the child if it is done than being said.