My Missing Cat!!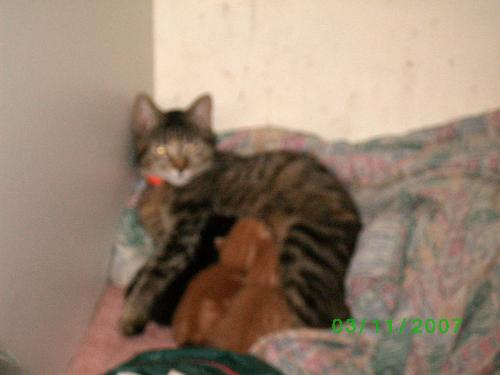 Australia
March 14, 2008 7:05am CST
My poor princess Tera has gone missing, and I just dont know what to do. I have rang around to all the places she could be she's just not there. I am really sad, one minute i am fine, the next i am sobbing!!She was my baby!! My fiance and I miscarried twice last year, so we got to have her, and now she is gone...:( She had babies last year, one black boy and 2 ginger females. We didnt keep any of them, i kinda wish we had because we'd have something to remember her by. Sami.
2 responses

• Belgium
14 Mar 08
oh i'm so sorry to hear that:( i hope you her back soon ;)i wish my cat was still with us she had to be put down she was 10 or more years old she was a really good cat she went missing for a day or two but she came back after that maybe your cat will come back aswell:) lets just hope the very best:)

• United States
14 Mar 08
aww I'm soo sorry that she has gone missing, have faith . Cats like to roam around . Have you asked your neighbors if they have seen her? And dont give up on finding her. Post her picture if she doesnt come home soon. And then if she does come back I think they have tracking devices you can get at the vet for her. Good luck hun!