I feel bare without it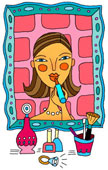 United States
March 16, 2008 6:41pm CST
When I take a shower, I absolutely insist on putting on body spray or lotion or even both afterwards. I feel bare without it. I also like my perfumes and even though I empathize with those who have allergies have a hard time not wearing it in a work environment, just because I love it so much and it makes me feel feminine. Is wearing colognes, perfumes or lotions important to you or can you live without them?
6 responses

• United States
18 Mar 08
Lately my skin has been very dry and I have had to apply lotion after taking a bath or shower. If I am heading out the door then I put lotion and perfume on as well. My neighbor has several different types of allergies and hates it when I put perfume on, but I can't help it, I want to be smelling nice when I leave the home LOL

• Philippines
18 Mar 08
I also put lotion right after I take bath. it's always been the routine. I can't go out without it because of the sun. I have to have at least protection for my skin. i besides, I feel uneasy without lotion. I don't know why, I've been using lotion ever since I dont know when.


• United States
17 Mar 08

I have to have certain things on every day or I don't feel dressed. Deodorant, perfume, mascara(I have blonde eyelashes), powder,eye shadow and lip gloss. I have been skipping the blusher lately as I think I look more natural without it. I will not leave the house without my wedding ring or my good luck jade elephant charm.

•
16 Mar 08
Oh no, I can definately not go without my perfumes and body sprays! I love the smell of it after I have had a wash or a bath. I was a very lucky girl this christmas just gone, for a change people took notice of what I said I might like for christmas, instead of just buying me huge knickers and grandma slippers, I actually had some gorgeous perfumes instead! So I can have a different choice on different days too.

• Canada
16 Mar 08
I think a soft, gentle hint of something luscious makes one feel good when one is squeaky clean. Cheers.