wen did u last cried????????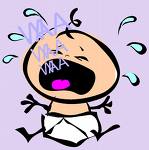 India
2 responses

• India
17 Mar 08
The last time i cried was on 15th jan'08 This was because i lost my friends jacket worth 4000/- And i was unable to pay him back and was feeling helpless.

• Norway
17 Mar 08
The last time I cried was last week while i watching a drama tv series.. lol. Because it was really a good story. It's about a guy who is about to die, but doesnt loses hope because he doesnt want to leave his wife. Actually, it was a real life story.