AVON ideas

United States
March 18, 2008 1:15pm CST
I we have a lot of mylotters that are AVON reps. Can you share some good ideas on getting new customers or larger orders? This weekend I did a Early St. Patrick's Day flyer and got a few hits off of it. It was easy to put up the flyers and did it like an after thanksgiving day special. Certain hours meant certain savings. After Easter there aren't too many holidays for April so I would be interesting in some exciting ways you have gotten sales and new customers. I like to keep AVON fun and with new things to do it helps.
2 responses

• Canada
18 Mar 08
I think Avon is a great store I guess you would call it. I am not a rep in anyway I just order off line. I don't order every month as well. Usually around every 2nd month but when I order I order a lot. I think to you keeping Avon fun would be a great way. Even with the flyers you also mentioned. I wish you all the luck with your Avon and I'm sure you will do well.

• United States
29 Mar 08
You can make a decent commission, but you really have to have clients, I was lucky enough to obtain them at a hospital (my mother works ther0 :) It's basically word of mouth...I leave books in clubhouses, driveways, hubby's work, gyms, laundromats, etc. Business is best for me around Christmas! Anyway, I always receive free products with every order, not much, but things we need such as body wash, shampoos etc. It pays off, I love Avon.

• Canada
30 Mar 08
I would never be able to get the clients. I don't know many people that like AVON. If you don't mind what is your customer number I can use that when I shop online. I can give you the credits or points whatever it is for you.

• Philippines
20 Mar 08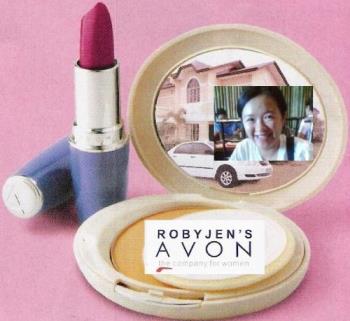 Hi. I am also with Avon, however, we don't sell online. We do, direct offline selling or face to face selling. What worked for me is having a lot of books to distribute and leaving some fliers to nearby offices. My boutique is just near the university belt so I have the chance to distribute fliers and invite them to become representatives. What my representatives do is to go to sari-sari stores (variety stores) and leave some books or even leave some products for a week or two. They will both agree that all products when unsold will be taken on the agreed date and another set of products will be given for next campaign. It has worked for them since, location the main avon center is 5 or 6 hours away.