Johnny and Sonny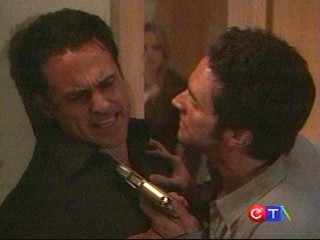 Canada
March 18, 2008 8:56pm CST
Come on. Be honest. Who was cheering Johnny on today? It was about time we saw the shoe on the other foot...errrr I mean the gun in the other hand. And Lulu! For crying out loud, crying away on Logan's bedside? I have never been a Logan lover, but holy cow, the poor guy wakes up from a coma...to that? And did she not stop to think that Johnny had excellent reasons for doing what he did to Sonny today? What really is the matter with that girl? I can not feel for her whatsoever. I just know that she better not be jerking Johnny around and she better quit running to Logan too. Sonny deserved what he got today and so much more! GOOOOO Johnny!
3 responses

• United States
26 Mar 08
I loved it. I am a Sonny fan don't get me wrong, but lately he has been so irritating. We have seen this coming. Sonny should have been able to figure out the whole Kate/Michael thing but instead he picked Johnny to blame. I LOVE JOHNNY!!!! Oh and I am glad I am not the only one who was like WTF Lulu how do you run from that to Logan's room start ranting about Johnny. This was just stupid and I am one of her fans. Also does anyone else see how alike Johnny and Sonny are. LIke Johnny is going to be a fresh newer, younger Sonny??

• United States
19 Mar 08
I used to love Sonny. But lately, he has been getting on my last nerve. I was glad to see Johnny put him in his place. Jason has been trying to reign Sonny in, but there is no stopping him and his ego. I think he needs to go to his island for a while and cool off. As for Lulu, she irritates the hell out of me lately. 'I love Logan. No, I want Johnny. No, Logan.' Make up your mind!!!


• Canada
19 Mar 08
It was good for Johnny to finally step up to the plate, however he just humiliated Sonny and no one get's away with that, then he turns around and Jax is telling him to get lost, almost talking to him like a dog, did you see the look of disbelief on Sonny's face?