Great dogs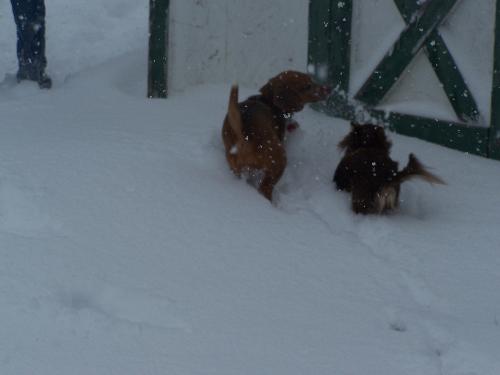 United States
March 19, 2008 10:54pm CST
I have two great dogs. I have a long hair Chihuahua and a Red Beagle. They are great. What kind a animals do you have?
3 responses

• United States
20 Mar 08
I personally only have a pit bull mix, her name is Virgo and she's a WONDERFUL dog. If I didn't have her, I would be completely lost, because she keeps me on my toes. We also have 2 other dogs in our house, one of which we have had for over 5 years, her name is Katiebug, and she is a German Shepherd mix that we adopted from the local shelter when she was a little puppy. The other dog we have, we have had for a little more then 5 months, and he is my sister's puppy, a gift from me, my boyfriend and my mother for her 16th birthday. His name is Meeko, which she named after the raccoon from Mulan, and he is a puggle. He is the dumbest dog I know, and doesn't allow anyone to touch my sister, as he knows as 'mommy', even when you hug her, he goes completely nuts. Sometimes we taunt him with this, and then run, which makes him chase us down the hall and onto the tops of beds, which he just so happens to be to small to jump up on. Oh, and not to forget, we also have a cat, his name is Baldwin, and we found him outside frozen in the snow when he was a kitten. We took him in, and weren't even going to keep him, but fell in love with him, and we've had him for the past 5 years.

• United States
20 Mar 08
I have a dog and a cat. I consider them part of the family. :]

• United States
20 Mar 08
I have 3 dogs (2 tri-colored beagles and one mutt), and about 12 fish.