If you always do what you always did...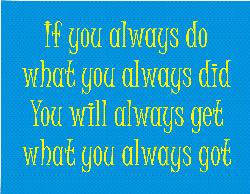 United States
October 31, 2006 4:58am CST
If you always do what you always did, you will always get what you always got. I have always loved this quote! It reminds me that you have to be willing to change your actions and patterns if you want different results than you've had previously in your life. I think they are important words to live by. What are your thoughts on this subject? And, do you have any other great quotes to share?
6 responses

• Australia
3 Jan 07
This is just so true because if we continue to do the same thing in the same way, nothing changes. It would be strange if anyone thought that answer, situation or whatever could change when we have not changed the way that we think or act. One that I like is from Abraham Lincoln and it is - 'Tis better to be silent and be thought a fool, than to speak and remove all doubt. If only more people would heed this, then things could probably go a lot more smoothly in their life. LOL

• Canada
31 Oct 06
I like that saying. I have not heard it before. It certainly makes sense to me. Change is progressive; as long as it is positive change. I think one of my favourite sayings would have to be: "Once the game is over, the pawn and the king go back into the same box."

• India
31 Oct 06
I think that is not correct. Why means if we are always trying to get success and if it is not getting means we must try hard to get success in our life. I think your theory was not correct in all positions

• United States
31 Oct 06
What I believe this quote means is that you can't expect new results from doing the same exact things you always did. You have to be willing to try new things. You say you are always trying to get success, and that's great, but are you always trying the exact same things or are you mixing it up to find what will make you the most successful? That's what I think is important. Now if you find something that works for you, then by all means continue it, but I think it's important to remain open to new possibilities too.


• United States
3 Jan 07
When things are bad, we take comfort in the thought that they could always be worse. And when they are, we find hope in the thought that things are so bad that they have to get better.