Paris or Nicole?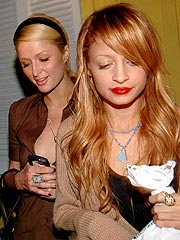 United States
March 22, 2008 3:48pm CST
Who do you like better? Paris Hilton or Nicole Richie. Personally I like Nicole. She's not afraid to be herself and seems to be very genuine. Also at this point in time, I'd say she's got her life put together a lot better than Paris does.
2 responses

• United States
22 Mar 08
Nicole is great I think she has a great personality I had a chance of meeting that girl a lot for things they say she's not that. she's pretty cool person. In fact if you live in Hollywood Paris is all over the place I dis like her habits she does thing then she goes Oh I'm sorry did not mean to do that but she's testing you. Nicole does not do that. Paris need to be serious about what she's up to she's not really serious about a lot of things. I don't hate paris but if you asked me again I will have Nicole around me at any time than Paris

• United States
23 Mar 08
You got to meet her? That's so cool! She seems like a very down to earth person. I would love the chance to meet her.

• United States
23 Mar 08
she's very nice person and organized. in fact what you see in the simple life is just script they are reading off on air. I think Nicole is one bright and great young woman. I don't know what to say about Paris. Although she has good sense of humor I think to some extern she just needs to behaved. She's very smart person, but somethings are not balance in her. her sister Nicky is far more better than her any way

• United States
23 Mar 08
I would have to say Nicole too!She's more " herself " . Paris is too much blinded in the hollywood light.