Blast From The Past OR Show And/Or Tell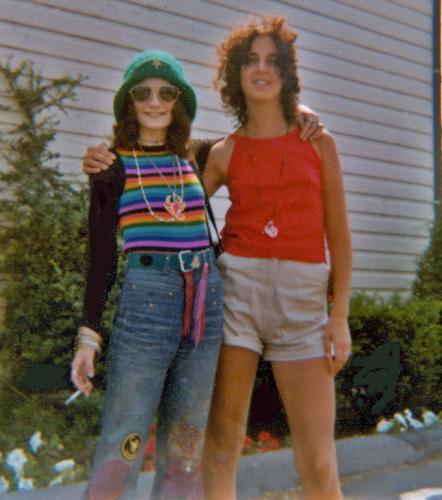 United States
March 22, 2008 10:04pm CST
Yesterday I spent a considerable amount of time going through old photographs. Up in my closet shelf I had two old shoeboxes where I had kept old photos of my great-grandmother, grandmother, mother as a girl, as a teenager, me as a baby and various photos throughout my growing up years--I'm hoping to sort them out carefully and file them in some kind of chronological order which of course will take a lot of time. Thing is, as I'm going through my own photos, I came across one real vintage one of me...the kind that makes a person go, "OH, MY God!...Did I REALLY look like that?" Scenario: The photo is dated August 1973--I had just graduated high school and was about to start college. At the time of the photo, I was away on vacation in the Lancaster, PA area with my grandmother, mother and a good high school friend came with me. Now you have to realize...the first year of my high school life I was super nerdy, the Arista/honor society dweeb very conservative....but by the second year of high school I had transformed and I was your typical wacked out, "hippie dippie"--wearing nehru jackets (gosh, remember them?) Flared bell bottoms usually with a lot of rips and tears covered by patches (gee, times haven't really changed have they)--wore peace symbols, large necklaces, psychedelic vivid colors--Uh, in others words I looked like I had just stepped from the cast of that popular Broadway show "Hair"--by the time this particular photo was taken though I had "mellowed" out a bit and wasn't too freaky looking, but wasn't exactly conservative wearing a business dress either Ironically, when I went to college being a Drama major I took costume design and my professor said the first day," Look at how you are dressing now...to an extent, you'll dress in a similar fashion all the rest of your life" He was right...though I've gotten a tad more conservative than my hippie days, I'm still far from blending in the crowd and have been told I dress very "artistically"--hehee..probably a nice way of saying eccentric Do you ever look at old photos of yourself and think, yeesh, did I really look like that? Do you wonder how you had the nerve to dress the way you dressed at one time?Okay I'm willing to share that vintage photo of me with my friend here...uh, I think you can tell which one is me...by my very conservative attire...uh, NOT...yup, that's me in that long-sleeved top, the faded patched up jeans and green hat and shades-- Now. It's your turn..would you be willing to share one of your "vintage" photos??..This should be especially good for all you in my same age bracket and if you were a "hippie" as well. Come on...share....hehee

Oh--and if you don't have any photos of you that make you gasp...at least describe how you dressed when you where younger, especially your teenager years
1 response

• United States
23 Mar 08
The picture was lost a few years back in a fire, but I had a picture from 1987-1989, I hope I give you a great description of what I looked like. I was near 5'8, and weighed maybe 100 lbs at the time. I wore a Mohawk that I always took great care in shaping, my left ear was pierced (Got ripped out in a fight), I believe I was wearing either my ac/dc or metallica shirt (Really don't quite remember)I remember it was a black shirt, I had 1 in spike wrist bands (Anything longer than 1 in was illegal), Gray parachute pants, and black sneakers. I hope I gave a good description, sorry that I no longer have that picture (kinda glad myself :D).

• United States
23 Mar 08
sorry that was 1989 because I got to thinking about where we were living at that time I was 15 when it was taken, because I was about to be sent off to a boy's home...

• United States
24 Mar 08
Is that a photo of you now in your avatar..??? Trying to picture you as you described yourself in 1989...my!!! What a difference, no??


• United States
24 Mar 08
Yes I should have mentioned that it is my pic in the avatar.