Are Inbox Dollars And SendEarnings By The Same Company?

United States
March 25, 2008 8:50pm CST
The reason I ask this question is because their designs are almost the same and you earn money the same way on both. The only difference I can see is that at SendEarnings you cash out at $40 and at Inbox Dollars it's $30. You can see my profile for more on Inbox Dollars and SendEarnings.
6 responses

• United States
5 Apr 08
I thought they must be the same company as some days I get the same email from both of them. You had me worried about the $40.00 cashout. I don't always cashout at $30.00 because I don't like the $3.00 fee but I like the option. They started a new thing about after cashing out that makes you a gold member. You are supposed to get free referrals as they are available. Both sites are doing that as well.

• United States
5 Apr 08
Yes they are owned by the same company

• United States
26 Mar 08
I think they are, but I could be wrong. I'm pretty sure the payout on SendEarnings is also $30 though, because I was looking on their earlier to see what it was, hoping it was less than InboxDollars. I don't mind the sites though, although I think CashCrate is better for earning by doing offers. If you'd like a link, feel free to PM me, and I'll be happy to give you one. If you reach $10 by the end of the month they send you your money automatically, and there are TONS of offers to do everyday. I never have enough time to do them all.

• United States
26 Mar 08
You are correct. I just checked and it is $30. They must have changed it while I wasn't looking because I know it was $40 to get a check and $30 if you wanted to upgrade or something and there was another payout amount for something else. I was only interested in getting the check. Thanks for bringing that to my attention. I don't have as long a wait for my next payout as I thought.



• United States
17 Aug 08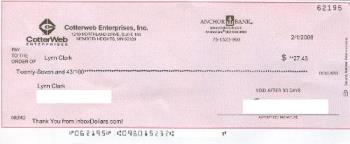 Hi artguy. I am a member of both SendEarnings and InBoxDollars and I can confirm that they are by the same company. Notice the CotterWeb Enterprises link at the bottom of both sites. That shows you they are related, some would say a sister site. When you get paid, this is what you'll see when they send your check. ps. Looks like there have been some changes to the minimum on SendEarnings as they both have $30 payouts now.