Whcih one do you prefer?big bananas or the small banadas?

China
March 26, 2008 12:54am CST
Banana is a very common fruit in the world. In my hometowm, there are many farmers plant bananas. In the supermarket, we can see that some banadas are very big ,while some are very small, which one do you like to eat better? My older sister prefer eatting the big bananas, but i think the small bananas tastes better than the big ones. What 's your opinions?
7 responses

• New Zealand
26 Mar 08
I prefer small bananas, since if you feel like eating a banana, but not too much, a small banana is great, but with a large one you'd have to eat the whole thing (unless you store half of it in a container, which I think is rather inconvenient). Taste-wise, I think the small bananas from Asia taste best, but here in New Zealand, the larger bananas taste nicer than the smaller ones...

•
26 Mar 08
I like the small ones better. I like them not too ripe, but not green either, and I love to slice them on my breakfast, or mash them and put them on top of toast. I also like banoffi pie, but if I'm going to eat them as they come, the small ones are just the right size. Brightest Blessings.


•
26 Mar 08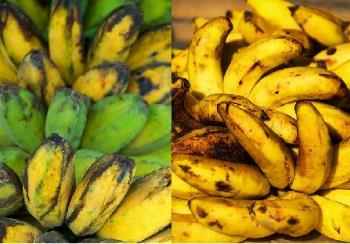 In the Philippines we have many different types of bananas. I like the small one which we locally call "La Tondan" because they are the sweetest. Unlike the big ones, La Tondan doesn't have a smell but they do taste superb. Unfortunately, the skin is very sensitive that is why they are not exported. My other favorite banana is the cooking banana or what we call Saba. You can cook it anyway you like, fried, boiled, roasted or even raw, whatever you prefer.

• United States
29 Mar 08
I like the smaller, yellow bananas because I feel that the large ones are too high in calories and the smaller ones are more accurate as to being the same calories as two fruits. If I wasn't calorie-conscious, I would like the big ones except they cost more because they weigh more.

• Australia
27 Mar 08
Of all the fruits bananas is my favorite back in the philippines,my favorite is the small one we call it senorita. now that I'm in australia i have no choice i eat big ones coming from queensland. we buy other kind's of banana in asian shop we called it saba, we make it into banana cue

• United States
26 Mar 08
I enjoy the smaller banana and use them a lot in baking. They add some sweetness to the recipe and not a lot of calories. Its just one more great way to get enough fruit in my meals, as I eat them for breakfast on my cereal also.