Do You Give Your Cats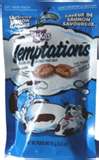 United States
March 26, 2008 4:40pm CST
Cat treats such as Temptations or Pounce? Or any other brand? Most of my cats LOVE Temptations but good grief! The prices for them has sky rocketed! I can't afford them anymore and my mom told me to buy Wiska's because on the box on the shelf at the store that holds the Temptations is says Wiska's, so they had to be made by them, so she had to switch to the Wiska's brand because they are a little bit cheaper. That's what I'm going to have to do or else I'll not be able to afford them but yet, how do I explain it to my kitties? I know I don't. But they know when they get their treats, which is first thing in the morning and around 9 or 10 at night and believe me, they look for them too!! So do you buy your cats kitty treats? If you do, what brand do you buy and what flavors?
3 responses

• Canada
26 Mar 08
I give my kitty Temptations as he loves these very much! He knows exactly where I keep them and when I give them to him throughout the day, I ask if he would like a treat and he meows for them, so I give him about 3. I'll only give him three if I haven't given him any that day so this would be later in the evening. If I do give him throughout the day then I'll give him one at a time. As for the prices I haven't noticed if they have gone up or not.

• United States
26 Mar 08
My one cat that is a siamese, she's so adament about getting them all day long and she won't eat her dry cat food or even the can unless she's made to. I hate doing that to her but gosh I can't afford to keep buying the treats! I give each of my 9 cats, or who ever is there at the time that they're given, about 7 to 10 pieces because they love them so much but all the rest of them will eat the dry and can too but not my siamese Gracie. She's something else.

• United States
1 Apr 08
Yes, I do give treats to my Cat all the time.I give him the pounce,temptations,special kitty,etc. I too have started buying whiska's because it is cheaper and a larger bag.I buy what ever is on sale.

• United States
1 Apr 08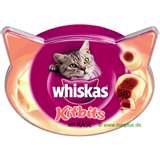 I'm going to the store tomorrow and will be buying some Whiskas treats myself and pray my cats will like it because Temptations has gotten too darned expensive. They've nearly doubled their price! I about fell over when I saw how much they cost now.

• United States
26 Mar 08
Mine love Temtations too. Last Sunday's paper had a coupon in there for a free bag. They also love Good Life treats but don't get it as often because they are even more that Temtations. I use coupons a lot and there are always some out there for $1 off 2 bags so keep a lookout for them. It does help.

• United States
26 Mar 08
Oh I'm a coupon person too! I agree, with you there, every little bit helps! Our paper was thrown into the darn ditch a couple of weekends ago and got sopping wet because of the rain. Dumb idiots who did it. Hubby was suppose to call them and complain but hasn't yet. I can't hear very well enough to use the phone very often so he has to be the one to do it and I bet you that's where the coupon was!! ARG!!! Anyways, thanks for letting me know!! MEOW!! LOL