two of my children graduated.... i am so proud of them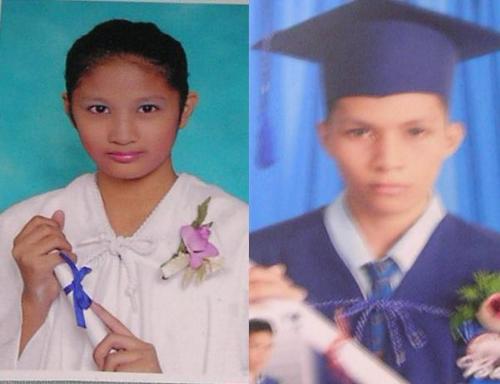 Philippines
March 27, 2008 2:21am CST
my first born justice graduated from high school and soon be entering college. wow... another step higher. my youngest graduated from elementary and soon will be entering high school. i am so happy but at the same time worried. most of you know that i am a single mom and i just hope i can give what they deserve. but still i am blessed i am proud of them and proud of myself at the same time.
6 responses

• Philippines
28 Mar 08
Congratulations!... this is something to celebrate... for now... just think of how happy and proud you are of your children... the worrying can come in later... at least you know that you are raising your kids right... despite the fact that you are alone in doing that... There is always hope for those who faith... your children deserve the best and so do you...

• Philippines
31 Mar 08
yes they deserve the best, they always comes first before what i want. i love them so dearly and i hope they will have a bright future ahead. thanks for the response. yes i can forget to worry for the mean time while its summer vacation lol.


• Australia
27 Mar 08
congratulations!!!! i am so proud of you as thier mom... of all those hardship you still manage to send them to school!!!! i know and i believe that you can still give them a better future... i salute you with that and i am happy i hope i could be like you... eneweii.... say congrats to my alaga... godbless!

• Philippines
31 Mar 08
hello hey_baby, thanks for the response. yes praying is one of the things that makes me strong. God bless you too.


• Philippines
3 Apr 08
yes it is not easy. some of my friends tell me to give time for myself too. yes i do give time for myself but i am more happy to see my children be successful. thanks for the response my friend

• Philippines
1 Apr 08
hats off to you! Well, i know how happy and proud you are for your children. What you have done to them is quite an achievement knowing that you provide them good education inspite of the fact that you are a single mom. You deserve a medal, a trophy, a plaque for being such a good mother to your children. I salute you! Keep it up! God bless you.

• Philippines
3 Apr 08
thanks for your kind words. yes i think i deserve a medal lol...but i would rather see them have a good life, and with that is a good medal that even i cant wear i can tell everybody that it is worth the sacrifice.

• United States
29 Mar 08
My kids are still so little.It is a long way off into the future for them to finish school.I know how proud you are of both of them and at the same time a little scared because the next road fro your oldest will be to leave and start a new life.Always remember you have been a wonderful and stronge mom to raise them on your own.You will always be their mother no matter how old they get and I believe they will always be close to you in heart and in distance.Keep on supporting them in everything they do.Before you know it the wind will lift their wings and they will nto only fly by soar.This is ta parents dream to see our children soar in life's sky free.They will always return so keep smiling.Congradulations!!!!

• Philippines
31 Mar 08
i am from the philippines and college here does not mean leaving the house. he will still be staying with us for the university he will be going to is not far from our house. the one i am scared about is the expences. i have a college and three more children in high school. i just hope i can still give them good education and healthy food on the table. thanks for the response

• Philippines
28 Mar 08
Hello roni.... Congratulations to you for doing all your best to make sure that your kids get the education that they need. And now, your children's graduation from high school and elementary are the proof of your hard work. And to do it all by yourself!

My son also "graduated" from Nursery. He's going to be in Kindergarten this next school opening. If you heard me telling my family and friends of his "graduation", you would think that he's going to graduate from college!

I was that so excited and proud of him....

AGain, a very good work on your part, roni. And good work on your kid's part, too. As moms, we know that there are a lot of things that can distract our children from trying their best to reach their academic goals. But your children had proven that they can turn their backs on those distractions and make you very proud of them.

• Philippines
31 Mar 08
it is nice to hear you saying that you are so proud of your child that sounded like he graduated from college. your son must be so proud of you. it is really something to be proud of whether it is a graduation from nursery, grade school, high school or college. you are a cute parent. thanks for the response