I am sick of it!!!

United States
March 27, 2008 11:07am CST
I look outside to find more snow on the ground. OK I know I live in Nebraska and we get snow but we have had it since Novemember and I want spring! I am so sick of snow!! Where is spring? Will it come soon? I need sunshine to survive! Are you in spring yet incase I run away from here?
5 responses


• United States
28 Mar 08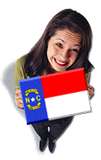 I can feel your pain Tricia. I used to live in New York for a short while and hated it with such a passion because of the winter lasting so long. I couldn't wait to move back to Virginia where I was from but once I got there, I couldn't wait to leave that area and eventually did. I live in North Carolina now and loving the heck out of it!! Maybe you should move here?!!

• United States
27 Mar 08
We are at 78 degrees here in Kenner and I think or at least I hope we are FINALLY having spring! 3 days of this week, we were cool days/cold nights. I am like you I want SPRING!! I am sick again because of all this mixed up crazy butt WEATHER!

Wishing us both SPRING weather soon!

• United States
27 Mar 08
Boy do I agree with you!! I am sitting here looking out my window and it is snowing again:( I am so ready for sunshine too. I am lucky though....3 more weeks and I will be on the beach for vacation:)

• Canada
27 Mar 08
no spring here yet either...i live in southern ontario canada and we still have snow on the ground (though very patchy) but are expecting ice rain tonight YUCK!! but...on the flip side, i dont know which is worse, snow or 95 degree weather (with 95 % humidity!!)