The biggest sin

United States
March 27, 2008 9:10pm CST
What do you guys consider the "biggest sin"? Or, the worst of the 10 commandments to break? What do you think is the worst thing to do in life? Is it to kill another soul? Rob somebody of their only possesions? I just want to know what you think is the worst thing someone can do.
4 responses

• United States
28 Mar 08
I don't really pay attention to biblical stuff, but I think the worst thing a person could do is to torture/torment others. I think it's absolutely terrible for someone to put other people in emotional or physical pain.

• Philippines
28 Mar 08
Sans the 10 commandments, I believe the worst thing you can do is take a human life. I know that there an instances where someone killed for self-defense, maybe we can rule that out, but still, for me, killing someone is the worst you can do; a life can never be brought back, unlike if someone is robbed of material things, it can easily be replaced.

• Philippines
28 Mar 08
1. Having Other Gods or idols - idolatry i think is the first biggest, we should not have other God before him, the ALmighty... if not, it wouldn't have been the first commandment of God... i guess. and then second for me is Killing someone - taking life of course is a sin, we do not have the right to take a man's life... worse torturing that someone... we are humans and must act like one, not animals. We should love and be considerate of each other.

• United States
28 Mar 08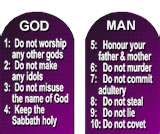 I don't think any one commandment is more important than the others because when God sent them to Moses on the mountain, he didn't say they were in order of importance, just that these were the ten commandments. I take them all very seriously.