Seals Hunts Are "Alive" and Well And Still Going On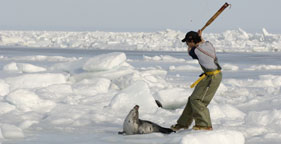 United States
March 29, 2008 1:32am CST
I got an email alert from The Humane Society Of The US about the ongoing seal hunts that take place in Canada...in fact as I write this, they have begun already. Many people are under the assumption that the seal hunts ended in the 1980s when people protested against them then..not so..they are still alive and kicking and the seal hunters club baby seals to death every year. Here's an excerpt from the article at the HSUS website. (Quote) ..." Baby Seal Slaughter Opens at Dawn March 28, 2008 Today marks both the opening of this year's Canadian commercial seal hunt—the largest slaughter of marine mammals on Earth—and the 25th anniversary of the European Union directive banning the trade in fur from newborn seals. Sealers will begin killing 275,000 baby seals today. The 1983 directive brought the Canadian seal hunt to a virtual standstill for a number of years. However, Canadian seal hunters now circumvent the law by killing the pups when they are just a few days older, allowing the legal trade of products from those baby seals in Europe."Today the slaughter of baby seals began again in Canada, largely because Europe continues to import seal products," stated Mark Glover, director of Humane Society International/UK."A comprehensive ban on seal product trade in the European Union will stop the cruelty of commercial seal hunts and finally meet the expectations of the European Parliament and European citizens," Glover continued. In 2006, the European Parliament passed a historic resolution calling on the European Commission to immediately draft legislation banning the trade in seal products, regardless of the age of the seal. Sealers set sail for slaughter yesterday. The European Commission then conducted a study on the animal welfare aspects of commercial seal hunting, the results of which should provide the foundation for a ban. That study found, "in practice, seals are not always effectively killed", seals suffer "pain and distress" during Canada's commercial seal hunt, and "seals may be skinned while conscious.""Just days ago, we stood on the ice floes with beautiful baby seals still covered in white fur. It is heartbreaking that the commercial seal hunt will begin today, and these pups will be brutally clubbed, shot and skinned to produce fashion items nobody needs," stated Rebecca Aldworth, director of Animal Programs for Humane Society International-Canada."The European Union holds the power to right an international wrong by ending its trade in all seal products."Despite mounting pressure from around the world to end the commercial slaughter of seals, the Canadian government authorized seal hunters to kill 275,000 harp seals in 2008, one of the highest quotas in recent history. The slaughter officially opens at dawn on March 28. A sealer kills a pup in the 2005 hunt. This is the largest slaughter of marine mammals on Earth. A large delegation of sealing industry lobbyists traveled to Europe at the request of the Canadian government to lobby against the pending seal product ban. Recent polling shows the overwhelming majority of Canadians are opposed to the commercial seal hunt, and two-thirds of Canadians holding an opinion support European nations banning seal product trade..." http://www.hsus.org/marine_mammals/marine_mammals_news/seal_slaughter_opens_dawn.html One way to try and stop this slaughter of these beautiful creatures is to boycott buying any seafood products as suggested by HSUS and to sign the petition http://www.hsus.org/index-seals.html There's also a video of this slaughter if you can stomach watching it and on the same page as the link here http://www.hsus.org/index-seals.html
8 responses

• United States
29 Mar 08
I got the same email yesterday and not happy with it at all. Enough seals are killed by the polar bears. If e1 would stop buying furs and animal skins, the hunt would no longer exist cause there wouldn't be a market for them.

• United States
30 Mar 08
I get so teed off whenever I see someone wear a fur coat..it's like I want to scream at them.."you know how many animals had to be killed for your friggin vanity??"

• United States
30 Mar 08
I had a friend who I found out later owned a fur coat. I believe it was tiger or lepard skin. I told her the coat goes or I do. Take a wild guess where I stood? She knew I was very much against fur coats and she even agreed with me.

My brother deer hunts to supplement their grocery bill but not just that, he also gives the hide to a friend of his who then uses it to make boots, jackets, pants, etc. He utilizes just bout everything from the deer. Not to mention I get some ground venison.

• United States
31 Mar 08
That's great that your husband's friend utilizes the hide of the deer, but I used to know a woman whose boyfriend hunted deer...but he was more of a trophy hunter rather than hunting the deer and using the meat...would you believe it? As a present to her, he thought it was a "nifty" gift to give her the stuffed head of the deer where she "proudly" displayed it in her living room wall...




• Canada
30 Mar 08
I know it is disgusting, but our prime minister steven harper claims it is humane, I still think it is awful

• United States
30 Mar 08
How can the prime minister think it humane???

• Canada
30 Mar 08
he said the government has investigated the issue and the seals are killed instantly or something to that effect


• United States
29 Mar 08
I didn't have the stomach to watch the video but I signed the petition and refuse to purchase any Canadian products until this is dealt with. Not sure that it will make any difference but at least I feel better about myself.

• United States
30 Mar 08
I know those videos are hard to watch..whenever I do watch something like that though I get so angry, like how dare we as a so called intelligent species be so brutal..all this is due to the fur trade and to fulfill the vanities of people who insist on wearing fur coats

• United States
31 Mar 08
LOL--I kind of did a guilt trip thing on both my mother and grandmother years and years ago...forget how old those coats were..but for many years...I guess in the late 1940s early 1950s, it was the thing to have a raccoon coat...they kept in great condition as my grandmother and mother would only wear them at "special" events like going to the ballet or opera, but I did the guilt trip with them saying how can you wear raccoon coats, when raccoon are so cute..something like that...they got rid of the coats eventually and never got any kind of "fur" coat again either

•
30 Mar 08
I'm sorry, Pye, my friend. I can't go to your links, as this activity upsets me greatly. How can any human do this to an animal? It's horrific, especially when they're babies. I've seen culling on the television a couple of times, and I just can't watch it... I cry for them, and have to avert my eyes, and mute the sound. I really hate it. I wonder how the sealers would feel if somebody kept clubbing them repeatedly over the head! Brightest Blessings, my dear friend. x

• United States
30 Mar 08
I'm with you there..it be great for these hunters to get a taste of their own cruelty


• United States
4 Apr 08
Thank you stvasile for signing the petition..I sometimes wonder if mankind will ever learn of the harm he's doing to the planet in general until it's too late to do anything

• United States
31 Mar 08
Thank you so much for bringing this to our attention, Pye. I've gotten lax about this horrible practice because I thought it had been stopped since it hasn't been mentioned for several years hardly at all. I couldn't bring myself to look at the video because I can't bear to see animals being tortured like this. I definitely will boycott any of the products suggested on the site you listed and I'll certainly sign the petition and pass it on. I'll never understand anyone choosing to wear something that is the result of an animal being tortured and killed! We don't live back in the pioneer days anymore where you can't keep warm any other way! It's despicable and disgusting. The more I learn the closer I find myself inching toward being a vegetarian; I'm not quite there yet but I can see it happening someday. Annie

• United States
1 Apr 08
I feel a sadness about minks and chinchillas too that are raised in farms just to be killed for their fur as well.

• New York, New York
29 Mar 08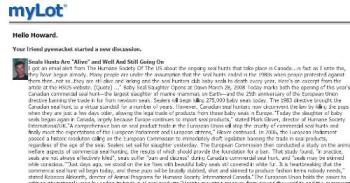 This is awful I feel so sorry for those poor animals. I have signed the petition thanks for the link and story. By the way I see your man is back on this discussion... LOL

• United States
30 Mar 08
Thanks Howard for signing the petition..uh, yeah, a few have mentioned to me that my mysterious man has arrived again..sheesh

•
27 Apr 08
Hi Pye-it makes me sick the way these barbarians are killing all these defensive animals how would they liked it being smashed in the head-shot or hunted for nothing. Our animals are more intelligent than man and don't kill for the fun of it only the need to survive-seals are lovely mammals and it is so upsetting to know thatthey are still killed today-bb littleowl