jpop artist

Philippines
March 29, 2008 4:39am CST
who is your favorite japanese artists?for me yui yoshioka is the appealling and a good singer, i like her songs very much. some of her song are skyline, goodbye days, love and truth, understand, and my generations, and she also sang the one of the opening theme of bleach, rolling star. that's when i first heard her voice... and i also watch one movie where she is the main character that is taiyou no uta... actually i really can't understand japanese quite well so i only relay on the english version of the lyrics.. but still like her song, its one of a kind...
11 responses

• Philippines
1 Apr 08
wahahaha! daem, ngek thats so feminine! well, i looooovve GACKT!! i heart him. he-he-he. i love his song Redemption fron Final fantasy: dirge of ceberus, though i cant beat it.lol. i also love him in Furin Kazan. such a good villain!! wahhhhhh i love his **(forgot the title but its a long one) song. the one with the vampire in his MV. also the Returner from Furin Kazan. i dont like boy bands such as Hey! say! jump! and the likes...so emo-ish.

• Philippines
4 Apr 08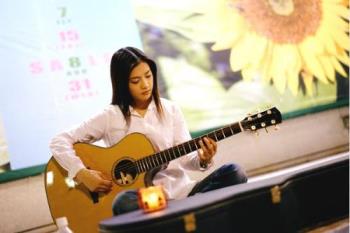 so what your with that?.. heheeh.. even girls like male artist, so why can't boys do the same? it's better to love the other gender than with the same, don't you think? heheh.. and it maybe is a feminine but i also like males but with boy bands... i'm just really fond of yui. that's why. btw, whose that pokemon? should i catch it?

• Indonesia
1 Apr 08
I like koda kumi. I don't know why, but i like her video and her music. I know that her voice is less than yui. Yui is very good singer..:) but still I like koda kumi better. And for the japanese, i don't quite understand too, but i like the music that they made. A little bit techno but still you can feel the japanese culture there..

• Canada
31 Jan 10
I love Otsuka Ai, Aragaki Yui, YUI, supercell, Aqua Timez, Makino Yui. I like JPOP even I don't understand them since they sound good and different. ?


• Singapore
13 Sep 08
Home Made Kazoku, FLOW, Orange Range, Rythem, TiA, Yui, Ikimono Gakari, Kome Kome Club, THYME, Nana Mizuki, nobodyknows+, Sowelu.... I love J-Pop!

• Philippines
11 Sep 08
Yui is my favorite female JPop artist too. The first ever Yui song that I heard was "Tomorrow's Way", the PV of which I downloaded only because Hongo Kanata (the kid who played Ryoma in the Prince of Tennis live action movie) was in it. I loved her voice and started looking around. I'm so much in love with "Goodbye Days". I still have goosebumps listening to it. Her voice is so pretty~! As for male Jpop artists, I like NEWS from Johnny's Entertainment. I originally got into them indirectly, since Yamapi (their leader) piqued my interest because of his being BFFs with Shirota Yuu (the actor who played Tezuka in the Prince of Tennis live action movie and musicals). So I went around searching for Yamapi's songs and inevitably stumbled upon NEWS. I love their songs and they do have quite a few number of relatively good singers in the group so I got hooked instantly. Not to mention that they're really pretty to look at. ;)

• Philippines
3 Aug 08
i agree, yui is definitely a good singer.. She have those qualities that can attract listeners especially her voice.. she made me play my guitar again.. hahaha.. her first song that i listen to was rolling star since i was fond of watching Bleach.. Even my friends who don't like j-pop said that she has a cute voice.. and i've seen taiyou no uta too..i cried in the end... i don't know.. i don't usually cry on tv shows or movies but that made me shed tears..

• Singapore
25 Apr 08
I personally like Ken Hirai, I love the hitomi wo tojite single, also Popstar, Memories, Life is.. Keep posting, Mickey

• Singapore
19 Apr 08
YAMAPI!!!!! AKANISHI JIN!!!!! YAMADA!!!! omg i love johnny junior's boys and of course KENICHI as L!!!! love love love... you won't believe this but i did contemplate taking up jap so that i'd understnad them talk for their talkshows... haha... LOVE THEM!!!

• United States
29 Mar 08
Kotoko is my favorite, but many of the other artists like YURIA, Hamasaki, Utada are all great too.