I need flower bed advice!!

United States
March 29, 2008 5:22pm CST
I have an idea, and i want to see if its a good or not. I have a flower bed in front, but every year i have trouble with grass (bermuda i think) and no matter how much i try to pull the grass out, it doesnt go away! Right now, ive got a few plants and some small shrubs in the bed. The soil is covered with river rock. So, what im thinking about doing is turning it into a raised flower bed. I will probably dig up the plants and shrubs (they are small) and then put down a plastic or cloth weed barrier over the rocks. Then, i was going to put soil over that, pretty deep, and replant my shrubs and plants...does this sound like a good idea, or not? Im just not sure what else to do about the grass other than ROUND UP and i'd rather not use it if i dont have to. Any advice is greatly appreciated!!
6 responses

• United States
29 Mar 08
Well what i do is i use newspaper all around my plants i dampen it and then put mulch,thos will kill all the grass ans weeds ,it somthers them out....Since you have rocks , then i am not sure,it will be hard to remove all those rocks.....I have found that newspaper works better,it last a long time but will finally desolve,where as that plactic won't and it sometimes get mixed up.with your dirt..Good luck anyway..I love my flower beds...

• United States
24 Jun 10
I would suggest not putting the weed barrier down that far or it will do no good. Most weeds can grow in very little dirt. I would put the dirt down first and then put your shrubs in and then cut a hole in the weed barrier where your plants will come through, if you want the weed barrier to work then you put it on top of the dirt and cover with either a very little amount of dirt or bark, just enough that you cannot see the weed barrier, if a few small weeds grow you can easily pull them because the roots are not very deep. I would definitely put the weed barrier on top of the deep dirt though, that is what it was designed to do keep a barrier between the seeds and the dirt they need to grow deep roots. If you do not decide to raise the flower bed then you could just leave your plants where they are at and put the weed barrier over the river rocks cutting holes for your plants and then put the bark or a small amount of dirt over the weed barrier and your done. I would strongly reccomend getting the fabric weed barrier not plastic. They have huge rolls of weed barrier at Costco for under $20. In the future if you decide to plant more plants in the flowerbed then you just move aside the dirt or bark and cut a hole in the weed barrier and plant it, then cover back up. Hope the info helps you out. :)

• United States
5 Apr 08
What could have helped here is pretreating the lawn and areas with an anti-weed spread, or a pre-emergent weed eater. Calcium Arsenate is the one I'm thinking of as it is the most readily available and better than the lead version. You have to wait two weeks if you want to fertilize the area or reseed bare areas. If you do refertilize just after two weeks you need a low phosphorus type. For some products to use in weed killing and weed prevention here are a couple Preen preventers and killers) http://www.preen.com/newpreen/index.jsp Burnout, natural weed killer) http://www.backyardstyle.com/shop/index.php?page=shop-flypage-12846 You can also check, backyardstyle.com and this site for gardening products and tips http://www.gardeners.com/ Your idea of putting cloth (or a suitable tarp) as the weed barrier and replanting the soil/shrubs above is a valid option in my view (plastic isn't recommended in this case). The existing weeds will be covered, at this stage you'll have to put in any other soil additions/nutrients above the cover. With your plan you are also taking care of any possible weeds with an newer barrier at planting level. You can also use an item like a fiber edgeing, raising the level of the bed and/or mulches to help prevent the weeds and prevent the grass from spilling inward.

• United States
31 Mar 08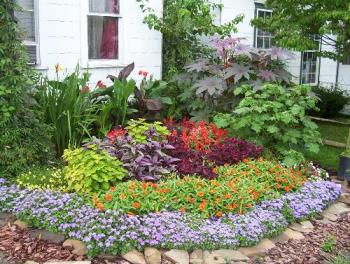 How big is the area? Are you willing to move tons of soil to cover the rock? How often do you edge the area that has the weeds/ grass growing in it? Do you mow the lawn once a week?If you have weeds in your lawn that are allowed to produce seeds, they will blow into the beds. If you do not edge your beds the grass will creep into the beds. You will have this problem regardless. If maintenance is not performed. Newspaper would be the best bet. It will last a while and provide nutrients to the soil and worms as it decomposes. I do not recommend plastic ground cover. It will ruin the soil underneath. Cloth type weed barrier will work if you do not want to use newspaper. There is a lot of soil you are going to have to move.

It would take at least 5 tons to turn the area in the photo into a raised bed. 7 tons would be a better estimate to give you an idea.