Which structure impresses you most?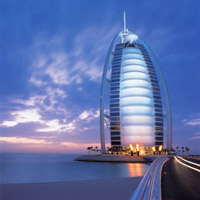 Philippines
March 30, 2008 10:51am CST
I'm amazed by the creativity of architects and designers around the world. I'm impressed by the structures in Dubai especially the Burj Al Arab Hotel. So plain outside but so grand inside.
2 responses

• Philippines
5 Apr 08
i've never been to dubai but, i like khans, gehry and wrights work... i saw them in some documentary though. my favorite structure is the falling water of frank lloyd.

• United Kingdom
30 Mar 08
I love to travel and when I do so I am amazed by the creativity of great structures that are around the world. It that Dubai has some very interesting buildings and it even built a palm tree in the sea. Wow! The architecture that I love most are the white sail like opera house and the harbor bridge in Sydney. When I went there I noticed that opera house was plain inside but fascinating on the outside. It is now possible for people to do a closely controlled bridge climb as part of a group. I would so love to go there and climb the wonderful Sydney Harbor Bridge.