Did you have a 3D ultrasound?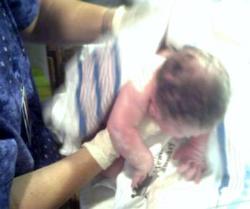 United States
October 31, 2006 11:44am CST
We couldn't afford one and just got a regular one. They look amazing!
4 responses

• United States
8 Nov 06
Nope. I thought my Medicaid covered it, but I don't think it does. I just had a regular sonogram today. :)

• United States
8 Nov 06
In most states Medicaid only covers the regular kind unless there is a health concern.


• United States
1 Nov 06
An ultrasound that actually shows the baby in 3D.

• United States
1 Nov 06
I did. They turned out okay. The problem that I had is that when I made my appoinment, I couldn't get in for 2 months. They were that busy. So, when I went in, my daughter was a little too big and their was not enough fluid left in there. I got them a month before she was born. The lady explained that the bigger they are and the less fluid there is, the harder it is to see. In the video/pictures, you can definitely see her facial features, but had she not been as old, they would've turned out better. So, my moral of the story; if you want them done, call when your child is about 16 weeks along. They told me that the best time is when the fetud is around 24 weeks or so.

• United States
1 Nov 06
Congrats on your new son! No, when I was pregnant, the 3D ultrasound did not yet exist. If it had, I would have gotten one as it had taken me 9 years to get pregnant and we were so excited about it. In fact, ultrasounds couldn't even be done as early then...had my first one when I hemorrhaged...at 28 weeks!