Anyone else a blubbery mess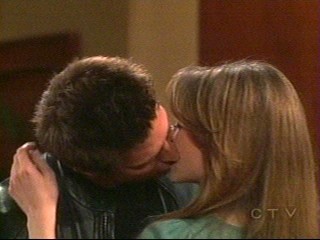 Canada
April 4, 2008 7:33pm CST
through the excellent Liason scenes today? Well I certainly felt the 8 or 9 years of anticipation come to a boil. FINALLY. Doing a happy jig! Can't wait for Monday's actual proposal and it is not like me to be wishing away the week-end! However, as they have already discussed, we know their timing will suck yet again, because of the Mykill ordeal, but that Robert Guza is one very smart man...and he knows how to keep us on the edge of our seats wanting more more more. Oh the Liason angst...it's just breath taking! This is why I watch GH and wow, what a kiss to shut her up with, lol!
Comeon. gush here, you know you wanna!

3 responses

• United States
5 Apr 08
I was soooo happy.And the music was great.I want to see them together,so bad.But poor Michael.

• Canada
6 Apr 08
Yeah---I love that Jason and Liz have their own song now. Ours To Keep is so perfect for them. Yep, the Michael angst will keep Liason fans on the edges of their seats for some time to come! Thanks for responding!

• United States
5 Apr 08
I am actually saddened by the fact that Jason & Elizabeth are going to become engaged no matter how short their engagement lasts. I really hate the way that they broke up Jason and Sam because they were one of my favorite couples and I think they were a better fit for each other. Sam knew how to live and survive in Jason's dangerous lifestyle. I can't believe he was able to get over her so easily and jump into a relationship with Elizabeth. I was also a long time fan of Lucky and Elizabeth since I watched their characters fall in love since the time they were kids. I hate how easy it was for Elizabeth to move on from the supposed "Love of her life" as well after waiting for so long for them to get back together. Elizabeth & Jason had their chance a long time ago but she chose to sleep and get pregnant by Zander. I really wish GH would find a way to bring Jason and Sam together but I don't think it will ever be possible since they had Sam assist in the kidnapping of Jason's child :(.

• Canada
6 Apr 08
Well I agree about Lucky and Liz. IF Jonathan Jackson was still with us, there would be none other than LL2 for me as well. However, something about the Lucky character just doesn't fit anymore. Jacob Young made an absolute mess of the character when he played Lucky and although Greg Vaughn is ok...the character is just lacking lately. Almost like this Lucky is an imposter... Lucky is a loser now, I hate to say it and Liz needs to be with a winner like our Jason. Those kids are far safer with Jason than they ever would be with Unlucky, now that is for sure. And the Liason chemistry is just right off the charts. I know that Jason will try to push Liz away after their engagement and Mikey's shooting. The big difference is, Liz will finally stand up and FIGHT for her man JASON in a way she has never before fought (even for Lucky). Their love will stand the test and Jason and Liz will actually go through with this marriage (something he could never do with Sam for some strange reason. Maybe because it was never quite right). Elizabeth has changed alot in the 8 years since she has met Jason, they have both grown and matured trememndously. I love how they keep coming back together and are now ready to live in each other's worlds. That is angst. That is love. True soap opera style! I can't wait for much more Liason angst still to come our way.

• United States
7 Apr 08
I was so happy Friday Evening when we were watching GH (which we DVR). My husband laughed at me when I told him to rewind it so I could make sure that was what really was happening. I have been waiting for this for a long time!!