Disney Princes

United States
April 6, 2008 11:28pm CST
Everywhere I look I see tons of things about the Disney Princesses but seldom do I see anything about the Princes. I was curious as to which prince might be your favorite. There are several to choose from:
Prince Charming from Snow White
Prince Charming from Cinderella
(I'm guessing it was a popular name or maybe a relative

)
Prince Phillip from Sleeping Beauty
Prince Eric from The Little Mermaid
The Beast from Beauty and the Beast
(he was a prince although I don't remember them giving his name)
Aladdin from Aladdin
. (I'm placing him as a prince since he married a Princess and of course was Prince Ali for a while) When I was younger my favorite was Prince Phillip. I loved the Sleeping Beauty story. Now though I'm not sure I'm torn between Beast and Aladdin, both have some great qualities. So who is your favorite? And if I missed one please let me know.
6 responses

• United States
7 Apr 08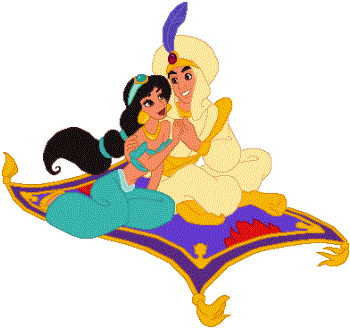 My favorite hands down is Aladdin. I LOVE Aladdin. I use to watch it all the time when it first came out. I don't know what makes me like his as a Prince more but I do.

• United States
7 Apr 08
I have the full set of movies :) I enjoy the first and the third. The second one I didn't care for but I think it's because it didn't have Robin Williams. I love the picture you found. I saved it.


• United States
8 Apr 08
:) I thought it was cute too. I'm thinking of adding it to my myspace page LOL. I've only seen the first 2 movies actually and only own the first. I just never got around to watching the others yet.

• United States
8 Apr 08
My favorite fairy tale is Snow White so Prince Charming is my favorite prince.

• United States
9 Apr 08
I understand that one. I know my favorite was Sleeping Beauty so of course Prince Phillip. The story itself does effect which prince we like.

• Canada
8 Apr 08
well for me I guess it would have to be the prince from cinderalla, I always wished it was me who had met him first lol

• United States
9 Apr 08
Heehe I can understand that one. I think for many girls that is the Prince Charming they dream of.

• Philippines
7 Apr 08
i love prince eric, because i love arielle. also he is very good looking and macho especially when he is a ship

• United States
7 Apr 08
Hehe that he could be. He also likes dogs so that's an added plus in my book.

•
7 Apr 08
I would have to favour Aladdin as that film really made me laugh. I think I preferred him before he was a prince because he was so much more fun, and not stuck up. As a prince he was a man out of his depth, but then so are most men at some point!

• United States
7 Apr 08
Very good point. When he was trying to be Prince Ali it wasn't real and it showed. I liked it best when he was being himself.

• United States
23 Apr 08
Hello Emeraldisle, Hmmm, interesting point -- the earlier Disney films did seem to downplay the importance of the prince, and focused more on the princess. I wonder if that was a particular issue of Walt Disney, or if it had more to do with marketing? I'd have to say that my favorite Disney prince is Prince Simba from "The Lion King". I'm not that big a fan of animation, though "The Lion King" blew me away, for it's amazing animation! I thoroughly enjoyed how well Disney developed the characters in that film. And, I have to say that I was really drawn to Simba's character. Geesh, just remembering the film puts a smile on my face. Yup, it's definitely Simba, for me!

• United States
23 Apr 08
You know I forgot about Simba but you are right he is a prince and should be included. Thank you for reminding us of him. He is a cool one at that too so I can see why he's your favorite.