Enjoy a bath??

India
6 responses

• Philippines
7 Apr 08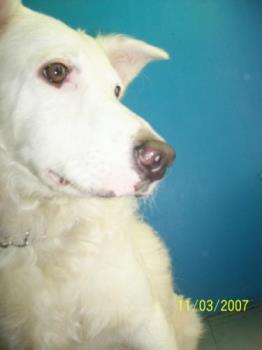 Oh wow, your dog looks just like our dog! Yes, he likes taking baths, but before you can get him into the bathroom, he makes lots of fuss. Our son gives him a bath every weekend, and it's always a struggle to get him into the bathroom. But when he's in there, he's fine. Better after his bath, because he's very happy and proud of himself. He runs around in excitement and jumps all over all of us like showing off how nice and clean he is.

• India
7 Apr 08
Hi, Thanks. Ya they sure do. Is his name Casper? My dog's name is Jesse and he is 2 years and 2 months old. When he is excited he will bring you his favorite pull toy or will start chasing his tail. If see him, you will laugh!! I think your dog makes you happy as well.

•
7 Apr 08
I have one dog that is not bothered about being bathed. She doesn't mind at all. But my other dog just hates water. When it comes to bath time he runs away. When you eventually get him in the bath he cowers and trys to escape. So it ends up with everyone being soaked.But we do get there in the end.

• India
7 Apr 08
I guess he shakes a lot while you are shampooing him!!. My dog makes a little fuss at the start. But once he is wet he does ok. :)

•
25 Jun 08
My greyhound just stares into thin air!

• India
7 Apr 08
Yes she enjoys her bath very much. As and when my husband gets the things ready for her bath, she knows and understands it. She'll start wagging her tail and makes a big scene. The only thing she doesn't like is water splashing into her eyes. Otherwise she is very cool about it.

• India
7 Apr 08
Hi, Mine doesn't like the splashing of water into the eyes also. I think it makes them scared!!

• United States
7 Apr 08
We have one dog and he loves being bathed. I will run the water so that it's ready. All we have to do is take him in there by calling him and he will even jump in the tub by himself. Once he's in there he will stand still while we wash and rinse him. After that we get him out and towel dry him so that he won't get water every where.

• India
7 Apr 08
Some dogs just love water and other just hate it !! Well you've got a good dog!! :)

• United States
8 Apr 08
My dog hates being bathed, or getting wet in general. Plus he's a big dog, so we usually have a groomer bathe him. :]