favourites

India
April 10, 2008 2:16am CST
hey guys what is your favourite food, fruit, vegetable, drink & chocolate??? which do you think is mostl healthy???
4 responses

• China
10 Apr 08
it is obvious that fruits and vegetables are the most healthy foods.and they are all very tasty,so i like them very much and eat everyday. i like drink coca cola.as known to us,if we drink coca cola too much,it will do harm to our health,so i only drink a little once time. but i don't like chocplate,i know many people like chocolate very much,but i don't, perharps the taste of chocalate does't appeal to me.

•
10 Apr 08
I eat at a banana every day. I like tomatoes, coffee and plain dark chocolate. I try to eat healthy food and I know fruit and veg are the best things to eat. I never eat meat. I like eating dried fruits like dates, apricots, figs and cranberries. I also like fresh fruit. I know too much coffee is not good for me but I have to drink it, and dark chocolate is better than milk. It contains antioxidants that help fight heart disease and cancers.

•
10 Apr 08
Fruit: Watermelon Mango Vegetable: Potatoes Drink: Cherry coke Chocolate...well anything :D Adding foods to my interests yesterday was hard because there is very little I won't eat - things I wouldn't buy for myself, but if they were given to me then I would still eat them.

• India
10 Apr 08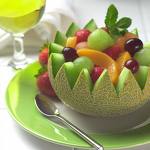 My favourite food is fresh juices and salads both fruit and vegetable salads. My favourite drink is Banana Milkshake and my favourite choclate is Cadbury's Dairy Milk. My fresh juices and salads are the most healthy food I eat ever.