I can't eat ice cream...anyone feel my pain?

United States
5 responses

• Canada
12 Apr 08
sucks to be you, I know a few people who can't eat dairy but isn't there some kind of a dairy replacement that you could eat and it would still taste like ice cream?

• Pasig, Philippines
11 Apr 08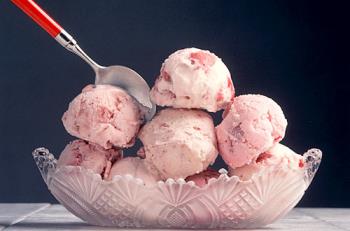 well try getting a second opinion just to make sure...if its really for real then i guess you have to bear it all your life and start enjoying other foods that is good for you...im sure you will njoy other foods others than those which are not suitable for your consumption...


• United States
10 Apr 08
I don't have that problem, I am not lactose intolerant. I don't know what I would do if I were! I did watch a show on television just yesterday, on how to make ice cream WITHOUT dairy products! It actually looked really good, although it was made with soy milk, and soft white tofu. Apparently you can't taste the tofu at all. If I find the recipe online, I will be sure to tell you. There is also different things you can buy in your produce department, that is dairy free, but tastes just like cheese! There are all different flavors like, cheddar, monteray pepper jack, mozzerella, and a few others. They are actually made out of vegetables, but taste like cheese. Hope this helps you, so maybe you can have at least SOMETHING close to pizza again, since you could use the cheeses to make a pizza.

• United States
10 Apr 08
Wow i couldnt live life that way I love my cheese and ice cream oh im so sorry for you. Isnt there a pill you can take.

• United States
10 Apr 08
i totally feel your pain!!! i started out as lactose intolerant and now i was diagnosed with crohns, which means no acidic foods (tomatoes, oranges) etc.. i can eat plain white bread and red meat, but not with BBQ sauce! i have tried the lactaid supplements and they work okay, not 100% but pretty good for a guilty pleasure!