MAKE AN EASEY $10.00 ONLINE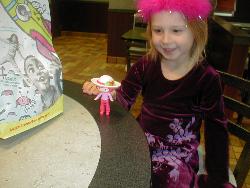 United States
October 31, 2006 9:32pm CST
I know a whole bunch of them. There are so many sites online you can get paid with that I'm currently starting a weblog full of "get paid" sites. http://creamiad.com They pay you to post to your own blog and then have people click through a widget on the post and do the same. I just made $10. for taking my daughter to McDonald's and snapping some pictures of her opening her happy meal and then writing about it. So what you do is go to my site http://almaames.com and then click on the little banner with the McDonald's sign on it and then follow the instructions. You can just go to creamaid.com and get into the program from there, but I'd really appreciate the click-thru and people signing up under me because I can make $2. for each person who writes a successful post.
5 responses


• United States
4 Nov 06
http://www.creamaid.com/widget.html?id=10000000631000001138 Make another $3.00 off the same site by reviewing "newgie.com" in your weblog!!!


• United States
3 Nov 06
Thank you so much. I will give this site a try. I also love the mini kitty in your pic. Is it a real cat or is it just an enhanced image that was created to look like that.

• United States
3 Nov 06
It's actually a doctored photo I swiped from http://worth1000.com which is a very interesting website, BTW.

• United States
2 Nov 06
Tried to sign up, but for some reason the site was having a problem. I am going to try again later though.