Turn The Heat Down Please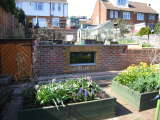 United States
April 12, 2008 7:18pm CST
We are having a heat wave and my body feels terrible. Could somebody consider taking my 91 degrees and I'll take your 70 degrees. I can't work and the water levels of the ponds keep going down quickly. Today I would even consider a 50 degree day. Enjoy the flowers I need to water again this evening.
5 responses

• United States
13 Apr 08
In the Central Valley of California where I live, it got to 89 degrees today. WOW! I was hot. My aunt and uncle came over, while my hubby worked today, and my twins and my aunt and uncle went to a local park. The park has this cool mister that goes off every 2-5 minutes. Well, today we really needed it. The park was full of people having parties and just chillin' at the park on a nice, warm, day...

• United States
13 Apr 08
The hottest part of the day yesterday was 95 degrees, which broke a record. Today is starting to feel bad, but I don't think it will reach yesterdays high. I'm not feeling as bad yet. Our beaches are really crowded.

• United States
13 Apr 08
It's going to get hot here, probably in the 90's on Monday. I'm so not looking forward to it. I hope you had some lovely spring weather like we've been having though. I'll be hiding inside if it gets that warm, not feeling well myself. I like the flowers - raised beds are my choice.

• United States
13 Apr 08
I have always felt raised beds are a good way to get lots of flowers, but can be costly. Right now, they keep drying out, but the plants are looking good.

• United States
13 Apr 08
Too bad we cant compromise as we are in the 30s.

• United States
13 Apr 08
I have lived in Southern California over 20 years and its rare to need clothes for your temperature. I would have to wear a lot of layers, as its normally 70 degrees here. I'm hoping for some cooler days quickly. A customer came out to look at plants, so now my nose is burned. I was feeling bad before, but now I look like one of the reindeer. Sorry about your cold weather and looks like everybody is having terrible weather.

• Canada
16 Apr 08
It has been terribly cold here this last week, today is the first nice day at 50 degrees. I have a pain in my back that just will not go away because of the dampness here.

• United States
13 Apr 08
Tell me about it. I want the temperatures we had last month. I'll take the fifties any day over this. We have all the fans going trying not to turn on the a/c yet. We know once it is on it will stay on till the fall so we are waiting as long as possible to turn it on. It's only April too and I know come July it will be really miserable.