What would your dream pet be?

United States
April 12, 2008 8:03pm CST
If you had any choice in the world to have any pet you want which one would it be? It could be a wild animal if you want it to be or it could just be something original like a cat. My dream pet would have to be a tiger. I know that sounds like a dumb choice but it is not dumb if you raise it from birth. They will be more tame and there will be less of a chance of something going wrong if you raised them from birth. But even raising a tiger from birth does not mean they will be the nicest things in the world because most people heard of that guy in los vegas who had his pet tiger attack him during his show.
3 responses

• China
17 Jul 08
To be a Bird,but not as a pet.You know what i mean.I want freedom.

• China
14 Jul 08
Hello dear alangardener. I love animals very much, but I think that I love more of small animals, like rabbits, poodles, and small birds, like parrots and beautiful birds.

•
13 Apr 08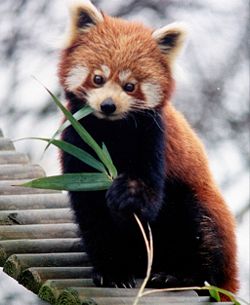 Wow... a bit ambitious wanting a tiger as a pet! They're beautiful creatures, but they possess a killer instinct. I think my dream pet would be a red panda. They're so cute to look at, not much bigger than a pet cat, and are quite fascinating creatures. I guess they would need quite a big cage as they're quite skillful and acrobatic animals, used to living in trees, and they feed on bamboo. I would love to keep one though. Brightest Blessings.