When was the last time you gave someone flowers?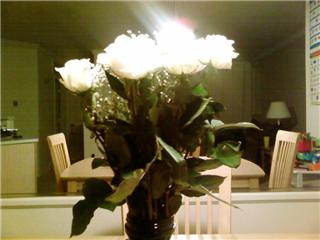 United States
April 19, 2008 1:39am CST
Its spring time which means a time for love and a time for flowers. I want guys, and some gals to let me and anyone else who responds to tell us, when was the last time you gave somebody flowers? It could be for any occasion, but you don't really need an occasion to give roses/flowers to make somebody's day special.
7 responses

• India
19 Apr 08
The last time remember giving flowers was to my husband, my then boyfrend, and i wud have still went on with being a romantic, if it mattered to him, he isnt n he doesnt care, so i just gave it up....

• United States
19 Apr 08
You should try it again, usually when a guy gets flowers he gets promted to return the gesture. Give it one more shot, if he doen't get the hint tell him. Us guys are a little slow and unsure in the romance department, even though romanace has the word "man" in it, we still need help. Bring flowers home and put them on the table, change them out a few times over the weeks, start with roses, tulips, sunflowers ect... Stop for one week, he'll get used to the site and scent and he'll buy some to replace the empty spot on the table. If he doesn't, let me know, we'll send him to romance boot camp.

• India
20 Apr 08
Lol! romance boot camp? yeah sure i ll try that 1 out n inform you, but i still say hez hopeless...


• United States
19 Apr 08
I'm sure she loved it. The only time I don't give roses is on Valentines Day, they're expected and they're expensive. That's the only rule I have on giving roses.

• Malaysia
19 Apr 08
i think it was 2 years ago. gave a guy friend a bouquet of flowers on his birthday. got it delivered to his work place to surprise him hehe.


• United States
19 Apr 08
I'll bet that made all the girls scold their men. I've sent flowers to my wife's work. She's an L&D nurse so the flower van wasn't sure who they went to because they usually deliver to new mommies, he was a little confused since she was on call that day.

• China
19 Apr 08
I have a little once to give flowers to somebody.The last time is last November,my good friend`s birthday.


• United States
19 Apr 08
It's still nice that you gave somebody flowers. It's easier than shopping for a gift.

• United States
19 Apr 08
ive never gave someone flowers b4...lol

• United States
19 Apr 08
You've gotta do it then! It will be reciprocated.

• India
19 Apr 08
hi frieds...the last time I gave flowers to someone was to my grandfather who had an Hernia operation and mind you friend the amount of happiness I could see was unmatchable.Although he had become quite weak and was unable to speak but his eyes spoke all..To give happiness is really worth a ton of goodies one can have.

• United States
19 Apr 08
Flowers bring such hope. They show that something can bloom and brighten any situation. Plus people are always thankful for flowers. Kudos to you!