Red Wine And White Wine May Be Equally Good For The Heart?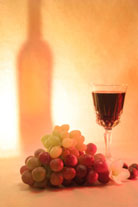 Philippines
April 22, 2008 10:01am CST
Scientists say they have new evidence that the pulp of grapes appears just as heart-healthy in laboratory experiments as the skin.The new study, scheduled for the Aug. 23 issue of the ACS Journal of Agricultural & Food Chemistry,challenges the idea that red wine is more heart-healthy white wine. Past studies indicated that the cardioprotective compounds in grapes -- polyphenolic antioxidants -reside in the skin and seeds. Grape skins, which contain purple pigment,are crushed with the pulp to make red wines. But the skins are separated from the pulp to make most white wine. That situation led to the conventional belief that red wines and red grape juice are the most heart healthy. "Although further study is needed to identify the principle ingredients responsible for the cardioprotective abilities of the grape flesh, to the best of our knowledge, our study provides evidence for the first time that the flesh of grapes is equally cardioprotective with respect to the skins," the researchers report. "do you think this study is nice and good for us"?let me know your opinion about this.
No responses