Tell Me About Your Little Critters.

United States
April 22, 2008 1:51pm CST
It was a great day yesterday and out weird bunch spent the day outside. Everyone of my animals (minus the fish too heavy to bring out) were outside with me. It looked funny as I have a dog, 2 cats, a ferett and a bunny and they all get along well. The ferett was rolling around in some leaves the bunny was hiding in the shade the cats were of course watching the bunny wholes hoping which is funny seeing they wont touch our bunny shes family and my dog was playing fetch. So my question is what kinda stories can you share about your little friends with me?
7 responses


• United States
23 Apr 08
Yeah I hate when my animals do that to me yuck.

• United States
23 Apr 08
Yeah thats why I dont get mad but its still gross lol. They also say if a guy really loves you he will fart in front of you but that dont mean we have to like it.


• United States
23 Apr 08
Right now we have two dogs.Bootsie is a greman shepherd/mutt and ceazer is a full blooded rot. They are both loving and love to play outside. Ceaz has a big blue plastic ball that he loves to play with. He is 6 years old, but nobody has told him that yet! If I am outside and not paying attention when he wants me to play, he will kick it into my shins. I used to have a horse when I was a kid. I have a story about it on my lot. Can a Girl and a Horse be Kindred Spirits? http://www.helium.com/items/917255-horse-kindred-spiritspicture-eight Feel free to read and let me know what you think. Thanks, Wendy

• United States
23 Apr 08
Its great when they forget their age must be a german shepard trait mine is 10 years old and well youd never guess it the way he runs and plays.

• United States
22 Apr 08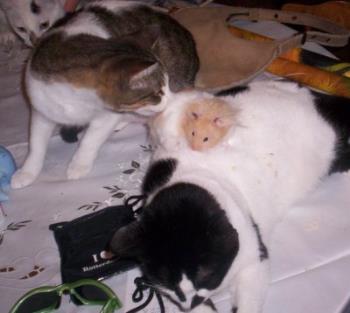 Well right now we have a dog (a collie), a bunny rabbit, and a total of 11 cats, two of these mainly stay outside and one is belongs to my brother who is staying with us. We have a full house

All of them except my brother's cat get along with all the others. The bunny plays with the dog or the cats and the dog and cats play with each other. Our one cat, Little Grey (misnomer there) used to lay on the bunny's cage. Mr. Bobbers would then reach up, poke him with his nose and then drop down again leaving the cat to wonder what was going on. It was very funny to watch. We used to have a hamster as well but he did pass away. Below is an image of him with two of the cats. The one cat used to let the hamster sleep on him.

• United States
22 Apr 08
That is too cute of a picture thanks for sharing I love it.

• United States
23 Apr 08
Oh you're welcome. I'm glad you liked it. The black and white cat with the hamster is named Angel. The other cat is Cricket, and he was named that because he chirps instead of meows.


• United States
23 Apr 08
Aww thats cute. My dog would be in trouble as hed dent the hood lol.


• United States
23 Apr 08
Stolen I take it he was outdoors? I mean who steals an iguana for crying out loud.

• United States
22 Apr 08
I've just got two dogs. My three year old dog is a big girl, weighing in at sixty-five pounds! She is such a chicken though, she is afraid of everything! She lets little five pound dogs run around her. My friend has a little rat terrier that attacks her all the time and she just runs in the opposite direction. We also have a puppy that is still little but will probably be about the size of our other dog, maybe bigger. We are still learning his personality and I hope to have some interesting stories here soon!

• United States
22 Apr 08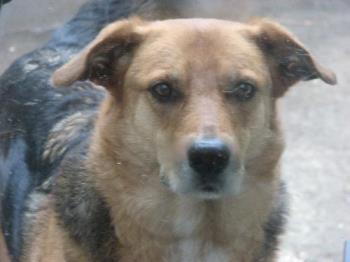 Well id love to hear them. My dogs the same way hes a nig guy yet a ferett can make him back down its funny to watch.

• United States
22 Apr 08
My kitties are only 4 months old and they stay inside. They love to chase each other around and they love to run through empty pop box containers! That is the most fun they have is running through them like they a tunnel. I bet your yard was a long of fun yesterday!

• United States
22 Apr 08
Kittens ae so adorable and playful arent they. Mine are kinda old and lazy but they love to hang out with us.