There Were Born Sunlight And Dance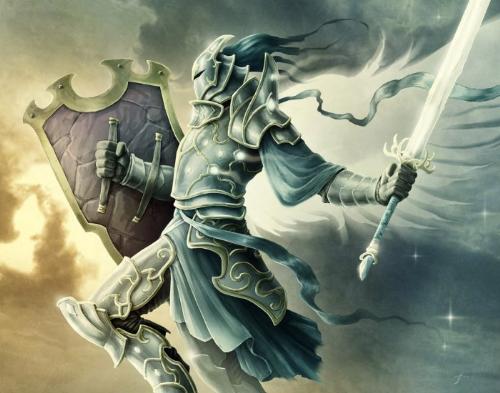 United States
April 23, 2008 2:24am CST
Seems like as of late I've posted nothing but gloom and doom, so today I thought I'd share another side of me. This is a story I wrote awhile back for my daughter Madison. Its magical to me, perhaps it will be for you too. There Were Born Sunlight And Dance Many years ago too far in the past for us to know the Gods were at play in a sky as sapphire blue it would appear a tapestry of the deepest velvet. And in their industriousness came to be two orbs, one of shimmering stardust and the other of the brightest gold. Both beautiful and dazzling and they lit the skies like never before. Amazed with their clever magic the Gods held these orbs in their hands not ever wanting to release them into eternity lest they not find their way back. Coveting their miraculous prize they entombed them in glass and watched as the two spirited orbs danced and twirled in their crystal houses as innocent children will do. Eternity passed into eternity and the two orbs grew as did the need for their homes of sparkling diamond cut glass. And the Gods came to see a renewed effort for the orbs to gain the freedom they had once been given. Their once found elation began to find its way to despair and the light from the two orbs seemed to become dimmer with the passing of time. Sorrow filled the skies as it appeared the bright glow from each diminished more with each breath they seemed to have left. She the shimmer of silver would breathe long and lasting sighs when the golden globe seemed at its most still and he the golden glow of hope would radiate only when she could not. So deep was the Gods love for the two that they came to decide to free them of their crystal chambers and release them into an eternal blackness with hopes that the two would not suffer anymore. Carefully their prisons were lifted giving way to freedom and in that moment the heavens were filled with the greatest love we have ever known. The two orbs spirited high into the depths of darkness and a light flooded the darkest of nights raining forth a brilliance of silver and gold. The two danced together, flung themselves apart and then came to intertwine never to be apart again. The Sun and the Moon, the God's eternal lovers remained high in the skies and looked lovingly down upon their minions for all, for ever and for eternity. copyright katherine bourgerie july 25, 2007
5 responses


• United States
23 Apr 08
I used to blog quite a bit on Yahoo 360 before coming to mylot, but haven't posted anything there in awhile, although I return there from time to time.



• Kuwait
23 Apr 08
wow! what a great story katherine, your daughter Madison is so lucky that your right this for her. what a great gift for her.

• Canada
23 Apr 08
I think this is absolutely beautiful. You are a good writer, and you are welcome to publish this piece in my e-zine, storytime tapestry, see the link on my home page.