I sent this cross stitch picture to my twin sister and she loved it.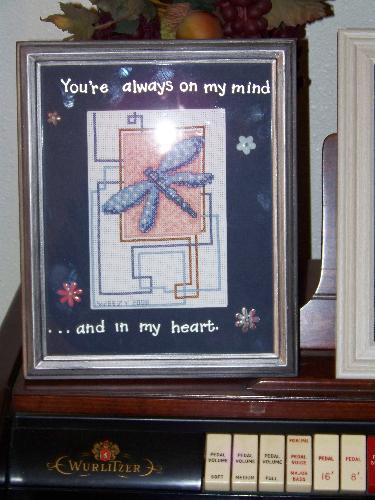 United States
April 23, 2008 8:27pm CST
My twin sister and I do not have the same taste in things at all. We decorate our homes differently we cook differently but we love each other. At Christmas I gave her a 30-dollar gift certificate from Party Lite for those of you who do not know it is a home party for candles and decorating items. She hated the gift she have it to our older sister. I was so upset she did not like it. When she came to visit in October she said she loved to burn candles and I gave her some. So I thought it was the best Christmas gift. I went out on a limb and made her a cross-stitch picture of a dragonfly. She has seen the picture when we where last together. I had not started the picture but she said she liked it. So I finished the counted cross-stitching part. I then bought a frame, matting, lettering, and flowers. I spent several hours framing the picture. It was very hard to get the picture straight in the matting, and then I added the letting and the flowers. I mailed it Fed Ex on Monday and my twin called me today. She said she loved the picture. She said it was beautiful she really really loved it. I asked her if she was just telling me that because she could tell me the truth. She said it was beautiful. I am so glad. I finally got something right. Now I have to wait and see if my older sister likes her also.
1 response


• United States
29 Apr 08
Thanks very much. I was a nervous wreck from the time I sent it to the time I got her call. I am glad she loved it.