Laptop sound booster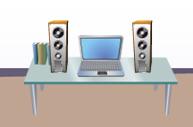 Philippines
April 23, 2008 10:21pm CST
I have this Asus X80 laptop with built-in realtek HD sound card, but I hate it when I watch movies, The sound is too low and sometimes I don't understand conversation of the movie I watch. So do you have any idea where to get or to download software or program to make my speaker boost a little. I've search google but failed fo find one. I remember that I have mylot beside me, so I ask my self to give it a try. I believe their is somebody or someone to help me where to get that software I want to boost my speeaker volume.
4 responses

• Anantapur, India
30 Apr 08
I think Asus X80 laptop gives good results because one of my friend said me and he has given some information regarding this lap top so i would like to get more information so how much does it cost?

• Anantapur, India
3 May 08
compare to your currency so our currency very low so i need to pay more amount in our we need to pay 30,000 to buy that laptop so in your currency you need to pay 750$ so i think it is really high amount anyhow i will go to shop once.

• India
24 Apr 08
Well, if you just boost your speaker volume then might be your laptop burn out and you can't either hear this little sound too my friend, Maybe its your internal volume which is not full, so maybe you need to check the control panel volume, whether they are all high or full or not... And if you just want the program for boost your sound a little bit then you can download "combined community codec pack" which is free of charge and does boost your sound volume by 500% which is quite booster...

• India
25 Apr 08
Well, As I said above that its a free charge software which you can download from http://cccp-project.net/ And Thanks for the BEst Response Mate...


• India
24 Apr 08
Here you go, Believe this is what you are looking for DFX Audio Enhancer for speakers in Laptops / Notebooks Increases volume by alomst thrice the original level. Here is the link : http://www.fxsound.com/index.php?vendor=15&subvendor=1&plus=0&refer=dfx8