Stay off my table!!!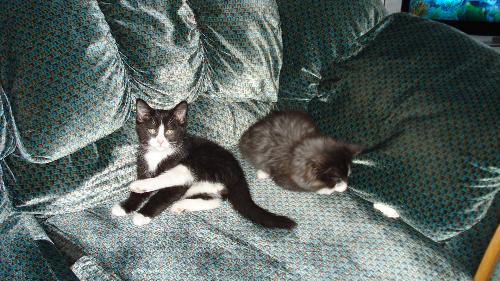 Canada
April 24, 2008 8:46am CST
My older cat has got my new kittens in the habit of getting up and playing on my table! If it's one thing I can not stand about a cat, kitten or any animal is it being on the table! I think about when they go to the litter box and get kitty germs on their paws then climb on and spread that bacteria to us. Don't get me wrong, I love cats and they are my favorite animals, and always will be but sometimes they do things that irritate me such as this issue. There are a few other things they do that bother me too like when I"m trying to walk they end up running in front of me and tripping me. I don't want to move my table because it suites my kitchen just fine and it's pretty much the only spot for the table to go. Is there an easy way of getting those cats to quit going on my table?
3 responses

• United States
24 Apr 08
Spray them with a water bottle every time you catch them up there cats usually don't like water. This is the method I am using with my new kittens I hope it works I will be checking back to see what ideas others posters have.

• Canada
24 Apr 08
Oh my I totally forgot about the water bottle! Thank you so very much for the reminder luvstochat! I'll have to find my spray bottle from before that I was using on my older cat when he was a kitten! That really did work and I had to use it to keep him out from behind my entertainment stand and computer where all the wires were. Thank you for your help!

• United States
24 Apr 08
It seems to be working with my kittens they jump right down and run and hide! I hope they get the hint!


• Portugal
24 Apr 08
yeah wet him with a water spray whenever he jumps on the table!they hate to be wet by water and after he learned he will get wet every time he jumps on the table he will stop jumping on it like mine =)


• Canada
24 Apr 08
I don't mind them coming and saying hello by jumping up on my lap because my cats don't do it that often but for pete sakes yes I agree with them being on the table! I can not stand that at all! I don't think dogs do it because they can't. They don't have the springs in their legs like cats do and are not as agile.