Do you Listen To music while reading....??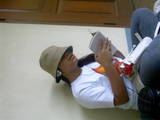 Philippines
April 25, 2008 12:01pm CST
Yep I see many people here in Manila... There Listening to their mp3 players... While Reading A textbook or comics or magazine... Many of them are Student like me.. I think this doings are bad... Your Body can take it but i think your brain can't take it.. You can't concentrate on one thing... Just Limit your Actions.... Like the picture below....
2 responses

• Philippines
25 Apr 08
I love reading and listening to the music though I prefer reading my favorite novels and books so when I am reading, I don't listen to anything or talking to anyone since I want to concentrate on what I am reading. Same things goes when I am studying history... hahah but when I am studying programming... I can listen to the music while coding/reading my program. :)