Have u ever been really really mad that it took u hours days to get over?

India
7 responses

• India
2 Nov 06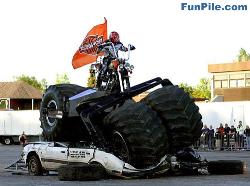 Yes - twice in my life and both incidents in the past 3 months...guess its been a stressful phase and in both cases, I vented my anger finally at the exact people causing it. Both cases caused wild anger which did not subside (first time ever) for 3 days!! One of them I dealt with and we worked out a solution, the other one is too immature and I haven't even communicated since. I never get angry for petty issues, but when I do get angry, I can stay angry till I am good and ready to talk about it/ sort things out.


• India
2 Nov 06
yes and it is not normal... maybe you should speak with someone with the credentials to deal with anger. Try to analyze why you are wrong and think about the situation as an outsider looking in, you may find yourself to appear foolish but if it was an instance that made you mad(rightfully), then maybe yor not wrong in bing mad but learn to let go..

• United States
3 Nov 06
Yes. I have been like that for almost 5 months now. It's something that I don't think I'll ever get over. I'm not sure I ever want to get over it for that matter.