Ice Cream Mania...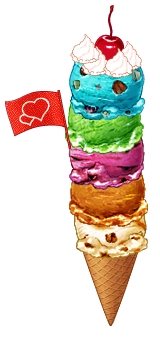 United States
April 30, 2008 8:51am CST
My Nephew and I found a wonderful game called Cindy's Sundaes. You run an ice cream shop and have to make matches to make ice creams. You also get to design your own ice creams. My Nephew had a blast with this game. We named our ice creams things like Tropical Blast, Day On The Beach, The Love Nut, Yumm-o and Michigan Delight to name a few. It's a lot of fun and he learns while he plays. BTW, the ice cream in the pic is one I made...it's called the Super Stacker...after all he can't have all the fun LOL So, what kind of ice cream names can you think of? Do you think your kids would like a game like this? Do you try to pick games that your kids learn from as well as enjoy? **AT PEACE WITHIN** ~~STAND STRONG IN YOUR BELIEFS~~
7 responses


• United States
30 Apr 08
Ok, Sorry looks like an on-line game

• Australia
20 May 08
Some ice cream right now sounds good. Got the flu and need something to get rid of the scratchy feeling in the back of my throat. Maybe a eucalypt menthol ice bomb?

• Turkmenistan
1 May 08
That game sounds like a lot of fun. However, I once did a 1000 piece jelly bean puzzle in a week. I ate so many Jelly beans while doing that puzzle that I was borrowing money to get more candy. I imagine if I played that game, I would need to keep the ice cream coming too, LOL.

•
30 Apr 08
I think my daughter (who is 6 was playing this game the other week and made me join in with her - if it wasn't the same it was very similar and it was great fun - we all joined in with her! I love these types of games on the computer as well for my kids - and even better that they are free! xxx

• Canada
30 Apr 08
that does sound fun, now let me see what kind of names can I think of, I love Ben and Jerry's chuncky monkey, that is so cool, but for a name of my own, hmmm how about chocoberry delight, of course this would be chocolate and berries. orange marmalade MOnday morning blues - blueberry and vanilla ice cream rudolph the rain deer, chocolate ice cream with peanut butter sprinkles and a red cherry on top.

• United States
30 Apr 08
Well, your nephew seems to be having a good time ,so why not continue with the fun.

• Philippines
30 Apr 08
Wow, what a cool store! Hmmm.... I haven't thought of anything yet... heheh.. maybe vanilla dotted icecream.