Which One Is America's Next Target? Iran Or Pakistan?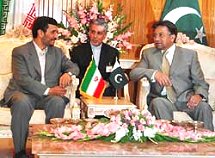 Pakistan
April 30, 2008 12:18pm CST
President Bush is fighting a war against terrorism. He attacked on Afghanistan first and then Iraq. Now he is thinking to attack on Iran. But he is affraid of Iran's Atomic programms. Do you think President Bush will attack on Iran and if he attack on Iran and win this war then will he attack on Pakistan next? Because Pakistan is the only Atomic power in muslim countries. And Pakistan is only danger in Asia for U.S.A. Because Pakistan is a best friend of China and has a great support of China is every field. And f America will attack on Pakistan then China will be involved in this war indirectly. I don't need to explain the power of China. Because everyone know what is China now. So What do you thin will America attack on Paistan after Iran? Thanks
2 responses

• China
30 Apr 08
In my opnion,the peace of the world will never comes cos the USA is the only superpower in the modern world.people of the world know US wanna hold back China through everything they can do include Tibet riot and disrupting torch rally recently. hehe,it's the plot in my mind:US maybe will invade Iran in the near future,but pls think about China and Russia.i bet US will receive a large lose even they got win,meanwhile in the Iran war,i guess China will take action to Taiwan puppet goverment,then Taiwan return China(Taiwan and Tibet was is and will always be parts of China).Thx to Iran ,u hold down most mil power of US and soon China and Russia help Iran react to US freebooting miltary action~~~~ sorry,my english is poor, i cant figure it out about my designed plot.but like a famous politician said:if China want the world peaceful,China must stand up firstly.

• United States
30 Apr 08
I wish more than anything I could say Bush will not attack Iran or anyone else before he leaves office and then cooler heads, not to mention more intelligence and common sense, will prevail. However, I'm very mcuh afraid he's already got something up his sleeve, possibly right before the election. I thought we were very right in going into Afghanistan, not because they as a nation had attacked but because they were harboring those he did including BinLaden. Iraq had nothing to do with the so-called "War on Terror" but Bush has managed to convince some people that it did and still does to this day. I think we should have "stayed the course" in Afghanistan with our undivided attention but it's too late for that now, the Taliban has already regained strength. The "War on Terror" is a war with no specific way of knowing it's been won and specific country to fight. I hope and pray there are no more preemptive strikes by the U.S on anyone and that going to war is used only as the very last possible resort, as it should always be. Annie