My mom and dad took me on a trip with them!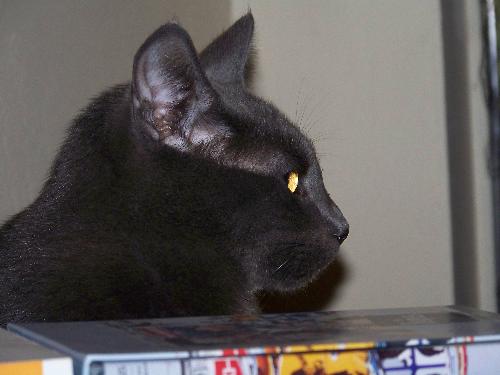 United States
April 30, 2008 7:45pm CST
Petie here; Mom and dad went out of town to see their son and they took me with them. Yayayaya We left last Friday night and dad drove to a place called Fernley Nv. I do not know where that is I just know that I went for a very long truck ride. Mom and dad even packed my kennel and blankets so I had a bed to sleep in. Once we got to the son's home I met three kitties named, Ruby, Simon, and Dr. Worm. Ruby is white and brown like me; and has blue eyes she was so afraid of me she hid under the bed the whole time I was there. Dr. Worm is black with very little white on him and we would have made friends if I would have stayed longer and Simon was bigger than me and gray. He is the ruler of the house. Mom got lots of photos of the cats. The best part of the trip is mom took me on several walks. We walked in a place that mom called a cemetery; we walked over the river twice. Once by a walking bridge that cars cannot drive on and once by a bridge with a few wholes in it. I think mom was scared. I loved walking on the bridges. I got to walk in dry grass and dirt and mom even took me into a store to buy bottled water. yayaya I have never been in a store with food in it. I have been in the store with fish, birds and other animals but not with people food. I think mom called the store 7-11. I loved the whole trip. I hope mom and dad take me on more trips again. I usually have to stay with Auntie Barbara, which I love, but I also love going with mom and dad. Do you guys get to go on car rides? Do you love care rides? I sure do. Mom even let me sleep on her lap with my blanket. By my friends,
3 responses

• United Kingdom
6 May 08
Hey there Petie Mum let me on here to respond to you She is taking a break from here but said I could come and speak to you I am glad that you enjoyed your trip but how can you enjoy the Truck Drive? yuk Mum can't take me to Field at the moment even though it is nice and warm she is sick again with her Tummy I am so glad that she is at the special Vet next week But normally will takes me for Field Walks when it is this warm Instead I had to have a Bath and now I look like Fluff Ball again and my Butt has gone all curly to Hey ask your Mum and Dad to truck drive you here that would be so awesome well my Dear Friend will see you next time Gissi

• United States
7 May 08
Gissi, I am sorry that your mum's tummy is bad again. I hope she feels batter soon. My dad was in the ER today because of his strokes again. I hope he is ok. I do not thing dad could drive in the water. I do not thing dad's truck can not drive over the ocean. I is four wheel drive not water drive. bark, bark, bark, It sounds like you need to be called "Gissi the curly butt" from now on. bark, bark, bark. Love you MAN. Petie.

• United States
1 May 08
Hiya again Petie. Wow you really were on some adventure there..uh, but didn't your mom take the feline members of your home with them? If not maybe just as well, seeing that there already were three kitties there and that way you had all the attention. Oh, yes, your mom was telling us all of how scared she was of that bridge, bet you weren't scared though, right? Nope, our mom doesn't drive or have a car, so we've never experienced traveling-I keep hoping that my mom will one day make a lot of money so she can get a car, and then we can travel all over the place...hey, maybe one day, we could visit you! Wouldn't that be great? Oh, nuts..mom's coming back again...and just when I was having fun on the computer of hers...I managed to write another story of mine here to share with everyone...but gotta go now Love ya, Pyewacket Oh Kissy, who is snoozing sends her love to you too

• United States
1 May 08
Mom does have a great car but she cannot drive it anymore. My auntie mary comes over once a week and they take mom's car. I would love for you all to come and see us. You could play in my back yard. I love my yard I do not have to be on a leash when I am in my yard. I did love the bridges and such. I loved seeing the birds also. Mom did not let me run after anything.


• United States
1 May 08
Taj, you know cats do not like going places like dogs do. I know not all cats like dogs.